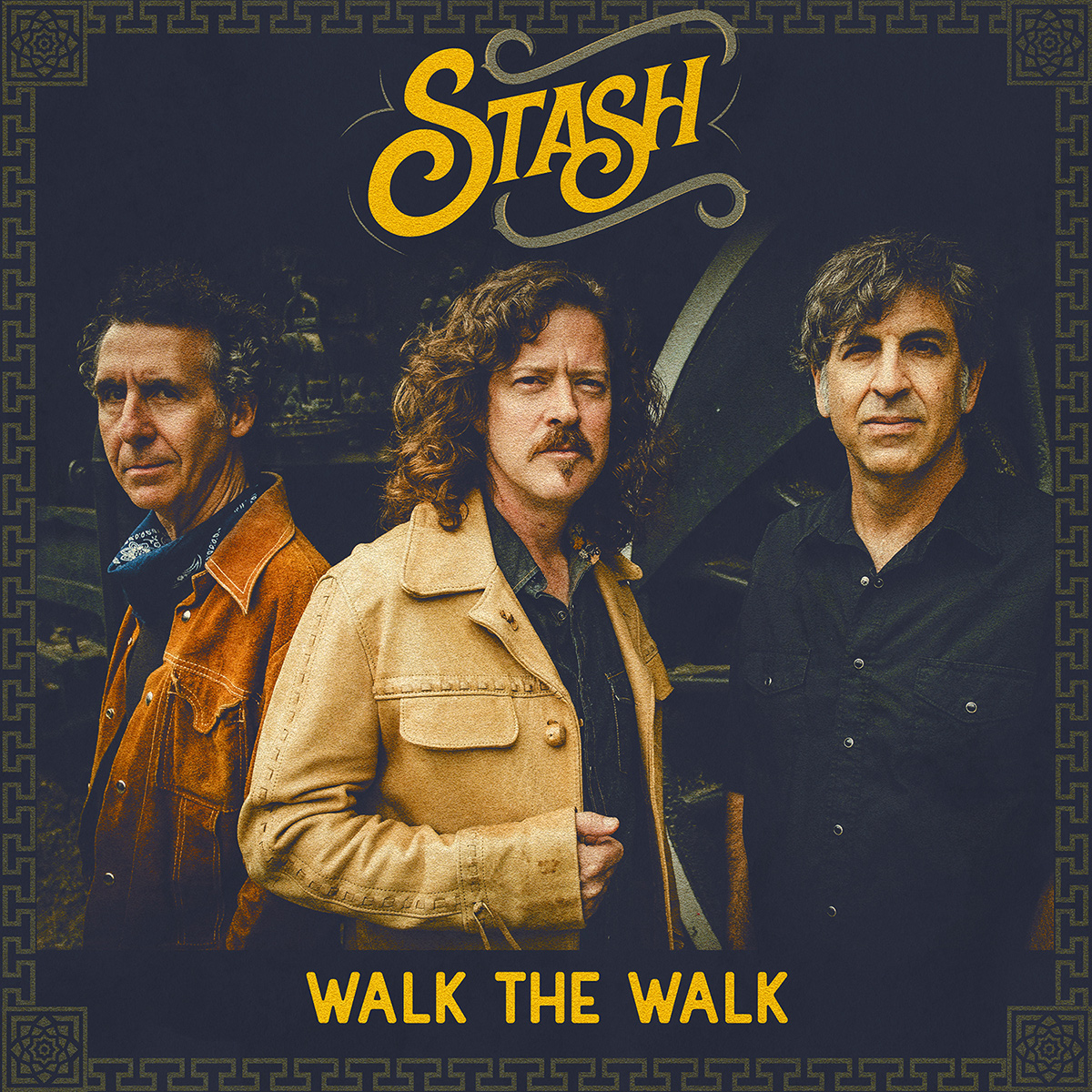 Stash is an all-star group from the West Coast roots rock scene. They will be releasing their excellent album "Walk the Walk" on November 5th. Born out of the pandemic the album should not be this much fun. Thankfully it is an eclectic Rock N' Roll gem that I have had on repeat since getting the demo. Stash is comprised of Bassist Ted Russell Kamp (Shooter Jennings, Tanya Tucker), Drummer Joey Peters (Grant Lee Buffalo, Cracker) and guitarist Rich McCulley (Geffen, Columbia). All are multi-instrumentalists and contributed all instrumentation and arrangements on the album. According to Kamp it was a true collaboration of longtime friends.
As mentioned above the creative endeavor was forged during the height of the pandemic. I had a chance to catch up with Kamp and he gave me some insight into the process of recording when social distancing. It started with Zoom calls and sharing of ideas in the early days of COVID. The idea was to take a bad situation and "survive and be creative". They would write together on acoustic guitars presenting ideas back and forth via Zoom. Then a demo would get started and passed among each other to lay down their instruments and arrangements until it was finished. Each member added their own ideas and influences and the end recorded album is an upbeat mix of Rock, Country, British Pop and even a little Spaghetti Western sounds. Kamp explained that, even though the three were good friends already, there friendships grew deeper during the assembly of these songs. This comradery is evident and makes the album that much more enjoyable. In fact, it is what makes it such a special record.
Kamp himself provides the vocals. This project let him be part of the band, as he often is in the studio or when touring with Shooter Jennings. However, it also simultaneously let him get in touch with the singer-songwriter you see on his many solo records. In addition, the process allowed him to put on his producer hat as well. Kamp not only provided his signature bass to the album, but he played guitar, Keyboards, banjo and trumpet as well. Not many projects could bring these multi-faceted roles all together. It is evident these three friends were having fun turning Stash from an idea into a reality, while using all of their multi-instrumental skills. "Walk the Walk" was recorded at Red Hill Recording (El Paso, TX), The Pop Garage (Topanga Canyon, CA) and The Den (Los Angeles, CA). Produced and engineered by all members of Stash, the record was mastered by Mark Rains at Station House (Echo Park, CA).
"Walk the Walk" is multi-genre Rock N' Roll journey that is well worth the ride. For a taste check out their website https://stash-us.com/
---
About the author:
 Chip and his family live in Birmingham, AL. Roll Tide!
---