Concert Recap: Hunny takes LA's Fonda Theatre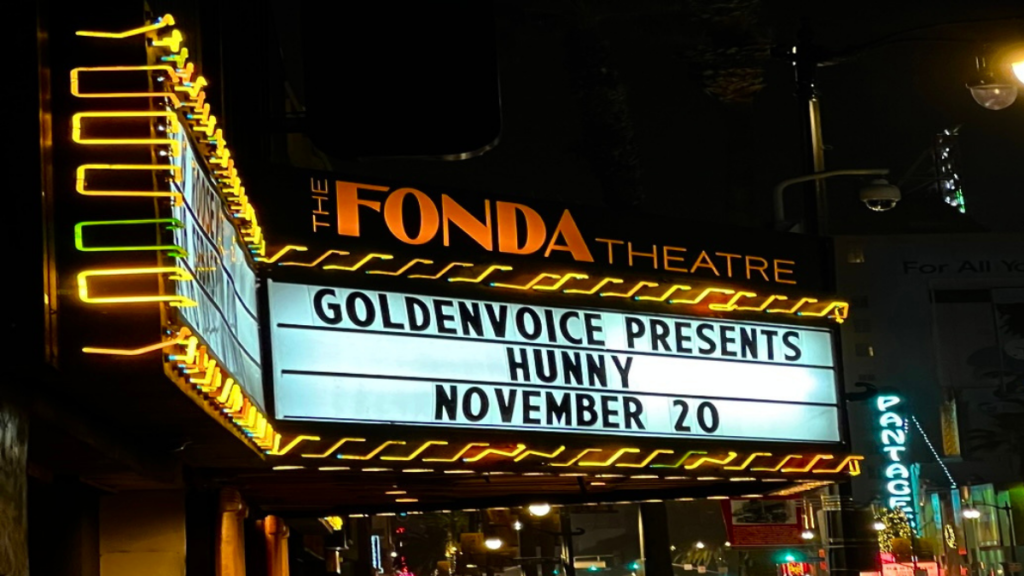 On November 20, indie-rock band Hunny performed the last show in their 2021 U.S. tour at the Fonda Theatre in Los Angeles, California. As part of their tour, indie-rock band Small Crush and Latinx Pop/R&B indie singer Michi opened up the show. 
For the performance in their hometown, Hunny included a little surprise for their fans by creating a limited edition poster dedicated to their final, sold-out show in Los Angeles–a DIY coloring poster that also comes with crayons.
Small Crush
From Oakland, California, indie-rock band Small Crush opened up the show with their talented vocal and instrumental skills. Small Crush was ready to put on a show with Logan Hammon on vocals/guitar, Jackson Felton on lead guitar, Allen Moreno on drums, and Tommy de Bourbon on bass.
The band members' chemistry with each other and the audience itself were genuinely heartwarming, with the members looking at each other and the audience happy. At 9:00 PST, Small Crush prepared an exciting performance, leaving the audience energized for the rest of the show.  
One of the first songs they had performed was "B Song" which the audience took an interest in as the band captured their attention. Then, as they continued to play, Small Crush began to build up the crowd's excitement as they played their song "Tummy Rumblin"– where some members started to dance a bit while playing their instruments. 
Their songs had lots of uplifting beats that swept many off their feet. From their 2019 full-album Small Crush, Small Crush performed some of their tracks that include "Signal Dream," "Mail Truck," "You Suck," "All I Need," and "Chicken Noodle." These songs left a few people to crowd surfing through the audience. 
As their performance was coming to an end, they thanked everyone for coming and ended their performance with their 2020 single "Transparency." 
You can check out more of their music on Spotify and Apple Music. 
Michi
Michelle Guerrero, also known as Michi, hypnotized the crowd with her grooviness at the Fonda Theatre. Based in Los Angeles, California, the Latinx Pop/R&B indie singer was the next opener to perform her songs at the concert. 
By 9:45 PST, Michi left her mark by giving her performance a memorizing and dreamy vibe. The crowd couldn't hold back their cheers while she showed off her fantastic dance moves. She performed her latest singles, "Talk Big," and the pop-funk song left everyone tangled by her spell. The singer gave the audience something to groove to as many began to move their heads and sway back and forth while listening to her fantastic voice. 
Michi performed songs from her 2020 EP Sugarbaby, including tracks like "Night Moves" and "Escondida," containing some Spanish lyrics. Midway through her performance, Michi asked the audience if there were any Latinx people here at the show, and many cheered in response, exciting the artist on stage.
As she continued to show her groovy dance skills throughout her performances, Michi performed some of her singles, like her 2021 single "Quítame" and her 2019 single "Still Feel U." Michi left the audience in excitement with her energetic performance and her charming vocals. 
You can check out more of her music on Spotify and Apple Music.
The Main Act: Hunny
From Los Angeles, California, Hunny is a four-member band, with Jason Yarger on vocals/guitar, Jake Goldstein on lead guitar, Kevin Grimmett on bass and keyboards, and Joey Anderson on drums. The performance was definitely worth the experience, as they left their audience in an exciting, enthusiastic mood. 
The anticipation for L.A.'s indie-rock band was no joke. Many people in the crowd ran to either use the restroom, grab a drink, or freshen up before the band's appearance. But, by 10:45 PST, the band came out and was ready to perform the final show of their tour. 
As the curtains began to lift, the crowd screamed as the band walked up on stage and started to prep their instruments."Shy" being the first song they had performed, the band began to jump seconds before the music began, making the crowd go wild and jump as well. 
Hunny performed many of their top tracks like "Vowels (and the Importance of Being Me)," and "July." However, they satisfied their fans by performing a mix of tracks, old and new. From their recent album in 2019, Yes. Yes. Yes. Yes. Yes, the audience could not stop cheering when hearing songs like "Lula, I'm Not Mad," "Halloween," "Saturday Night," and "Change Ur Mind." 
They had also included their newest 2021 singles like "Daydreams / Heartbreaks," "Xbox Luvr," and "Sports With Strangers." Again, the band left a breathtaking performance that made you never want to go home. 
The Grand Finale
With their last song, "Televised," they left another surprise for fans by dropping dozens of Hunny balloons into the crowd. Then, lead singer Jason made sure fans prepared for the final part of the show by shouting, "Los Angeles are you ready? This is the last little bit we got for you tonight. I need everything in your bones right now." 
The crowd jumped and sang what was left of "Televised," leaving the band amazed and joyful. Jason ended the show by saying, "I love you, I love you, I love! Thank you all so much, We'll see you next time." 
Endless Fan Excitement
Fans could not wait to show their time spent at the show. From recreating looks from Hunny's music videos to footage of balloons dropping from the ceiling, here are some posts of fans attending the Hunny concert.
Overall, the show was a thrilling experience with a ton of energy, jumping, and dancing. If you're looking for a place to have the time of your life, attend a Hunny concert. If you want to know more about Hunny, Small Crush, and Michi, please check out their social media and music platforms!
Want new music to listen to? Read about SM Station's latest upcoming track with Onew and Punch here.