Cat Stevens (Yusuf) | Teaser And The Firecat (50th Anniversary Super Deluxe Edition) – Boxset Review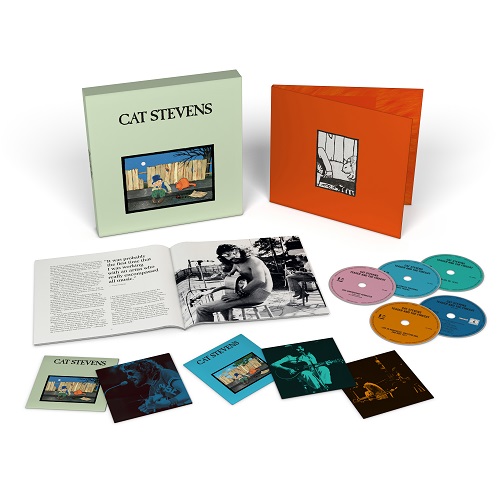 Following the 50th anniversaries of Tea For The Tillerman and Mona Bone Jakon in 2020, Cat Stevens' (AKA Yusuf) multi-platinum landmark release Teaser And The Firecat  celebrate with its own 50th anniversary in 2021 with a box set of its own. Although Stevens had already achieved phenomenal success, Teaser And The Firecat propelled the singer/songwriter/guitarist into superstardom.
Across this sprawling set of four CDs, a Blu-ray Disc , two LPs, and a seven-inch 45, there are 41 previously unreleased audio tracks, another 21 live performances, plus an entire CD and LP of studio demos and alternate mixes and video. There is a lush 44-page, 12-inch softcover replica of the original Teaser And The Firecat book, handwritten and illustrated by Stevens in 1972, included as well. There's even a 108-page hard-cover 12-inch essay book, alongside a host of other rarities.
Bouncing around all this stuff, one is reminded of the seemingly startling ease with which Stevens delivered with his beautiful voice and simply constructed songs. The 50th Anniversary remaster of the original 10-song Teaser And The Firecat reveals songs like the gentle opener "The Wind," "Rubylove," with its double use of bouzoukis, and, of course, classics like "Morning Has Broken," "Moonshadow" and "Peace Train."
On the Demos, Alternate Versions, Bonus Tracks disc, we get a deeper dive into these songs' construction, as well as hearing Rick Wakeman manage a slightly different take his iconic "Morning Has Broken" piano noodling. Hearing Stevens live from the BBC radio live sessions, TV appearances, and a stop at the Old Grey Whistle Test, plus a concert from Montreux in May 1971, indeed reminds one of the singular talents this man courted.
A remastered 7″ single of "Moonshadow," from a 1977 Teaser And The Firecat animated video that includes a voice-over from Spike Milligan, is another gem from this collection. There's also a rerecorded version of Teaser And The Firecat, with the now–Yusuf's full octave lower than the original. Here, these iconic songs of inner peace and humanness take on even more of relevance and resonance.
This 50th anniversary Super Deluxe version of Teaser And The Firecat is a completist's dream come true. As we have all seen with so many of these vintage rock albums hitting their half-century milestones, the wealth of material being unearthed is nothing less than a treasure trove for fans to explore. This one is worthy of your time.
~ Ralph Greco, Jr.