Boston Groupie News – Boston's Original Punk Rock Magazine
January 3, 2022
BGN 2021 Year End Review

As we write this, it's been a year and nine months of dealing with
the corona virus and we're in the course of another outbreak as the holidays start and end. Things are diminished and stunted, if they aren't cancelled.
That doesn't mean nothing is going on. And it certainly doesn't mean
nothing happened 2021!
It's pretty impressive how many of the people on the scene kept things
going. Kept playing live streams, kept producing music, records, videos,
podcasts. We watched in awe as some powered on despite the obstacles.
Let's take a look at what happened this year.
John Keegan got out to clubs more this year than
a lot of us did. He has made up a video slide show with some of his
favorite shots.
January
2021 starts out totally crazy with the Jan 6th storming of the capitol
and covid still rampant. Vaccines have just recently been approved and
people are frantically trying to get vax appts.
We find out that Ralph Fatello has Covid. Luckily he's in great
shape as an avid surfer so he pulls through … but it was terrible.
Once gets their first bit of good news – a $25,000
grant from the National Independent Venue Association. Once
never stopped working their way back to presenting performances.
Mikke Worm (Wreckless Wreck Chords) puts together
a compilation called Save The C Note with
over 40 bands on the album.
The Back Porch Carousel live stream, which becomes
a regular thing, has Woody Geissman as a guest. Proceeds
from the night go to Woody's Right Turn organization.
The Shang Hi Los come out with their second video
(above left). The song is "Skipping
Records."
Crow Follow combines with Linnea's Garden
to do a video stream
for Once Virtual Venue. (Above right) They both do four songs each.
The video is above right.
Smitt E. Smitty & the Feztones do a video
for "Big Bad Boy."
Sylvain Sylvain dies. How could it be? A career that
hold so many memories. We're so glad we got to that 2014
show at the Midway.
The Midway has three benefit live stream shows. They
seemed to have weathered the pandemic shutdown. We're so grateful.
Leroy
Radcliffe, who worked with Jonathan Richman
and Robin Lane dies.
Director Danny Boyle announces that he will produce
a six part TV show on the Sex Pistols based on Steve
Jones' memoir Lonely Boy. Johnny Rotten
will later sue and lose, and the show was able to go on.
The documentary Chet's Last Call gets
a play on Once's Virtual Venue.
A new record store opened! A miracle of sorts. Wanna Hear It
Records opened in Watertown. One year later they are doing
great business.
The Dictators put out a new song and video
for "God Damn New York.".
The Boston Beat podcast has Barry Marshall in the
studio.
Music
The Dogmatics release a career spanning collection.
Essential.
Randy Black and the Heathcroppers release an 11 cut
album called Many Moons.
Dave Tree's See This World knocks
us out of our quarantine stupor with their album The Future is 2020.
Brix'n Mortar cover INXS with the song "Don't Change."
Chris Brokaw's new album Puritan is sublime
work.
Rum Bar Records releases a huge compilation called
Rebel Rousers.
Tony Kaczynski teases us with the song "Today". That
will be on the next Fireking album that we are still
waiting for.
The Shang Hi Los impress with their 5 song EP titled
Like a Wicked Bad Habit.
FEBRUARY
Two Red on Red artists release videos. The
Jacklights with "Winter" (video above) and Kid Gulliver
with "Beauty School Dropout" (video above).
Red on Red, yet again…artist Linnea Herzog
does a 50
minute live stream. Nothing stops that biochemist!!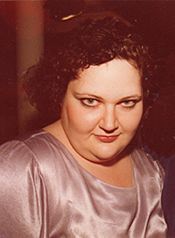 Tontileo (Gail Lipshitz) died this week. How can you
relate what made Tontileo special? You can try, but it's impossible.
She was one of the reasons that being on the scene in the early days
was so unique. You had to experience it.
Anngelle Wood lines up the Red on Red artists for
an hour long interview on her Be TV section of her
YouTube channel.
A punk book with politics as it's subject – We're Not Here to Entertain
by Kevin Mattson is reviewed
in the Nation.
Richie Parsons does the first in a run of live streams
from the Midway. This time he was sharing the stage with Anthony
Kaczynski.
Kenne Highland in the studio recording "Dead Boston
Clubs."
Blowing Smoke with Twisted Rico interviews Dave
Tree.
Justine and the Unclean have a colorful cartoony video
for "Scorpion Bowl To Go" (video above). The illustrations are by Crispin
Wood.
Green Day's new song is called "Here Comes the Shock"
but the shock for us was the video for the song!! It's all local Hilken
Mancini doing her Punk Rock Aerobics. So cool!!
"I'm Your Man" by Muck & the Mires is dubbed the "Coolest
Song In the World" on Little Steven's Underground Garage.
If it's Thursday then it's time for the Dug
McCormack art show. Dug's live painting show was a Covid shutdown
must view.
| | |
| --- | --- |
| Dug McCormack | Art on Thursday |
"Two Blueberries" by Cold Expectations signals their
turn from country to pop. We get swept away with the result. The rest
of the year sees them go from success to success.
Fellow fanzine Punk Planet get their whole
publication online.
The Talk About the Passion does a two hour interview
with hardcore expert Al Quint.
John Keegan does an interview
with Little Billy Lost.
There was a pay-for-view live stream to celebrate Sylvain Sylvain.
All his fellow musicians gave tribute.
Music
A few years ago Eaterville came out on Penniman
Records. Finally Eaterville
#2 comes out and it's filled with live cuts from the Nervous
Eaters. This brightened up our Covid cave lifestyle.
Mister Vertigo impressed us with Indie Nerd Strikes
Again album. These well written songs were worth listening to closely.
Juniper were an internet success and we loved them
too.
Rebuilder releases their live stream concert from
on New Year's Eve. To this day, we think that was the best live stream
show we have seen. The album proves it. The extra bonus? They cover
"Roadrunner."
Linnea Herzog gives us a "Non-Dramatic Love Song."
Death Pesos unleashes an eight minute song titled
"Pothole."
Rum Rum releases another compilation, If It Ain't
Rum Bar It Isn't Worth a Shot Vol 2 with 30 cuts! How do they do
it? We don't know but all year they repeat the phenomenon.
This month we first hear Beebe Gallini and their
song "My Way of Thinking." We've been hooked on them ever since. It's
garage heaven!
Gypsy Moths' new EP is titled Wollaston Theatre.
MARCH
We glom onto Bands, Beer and Banter. Ron,
Chris and Tim of the Winter
Project drink and review videos. How has no one else thought
of that? We get two shows this month. Number #5 is above.
The monthly Bandcamp Fridays is a thing to do. Bandcamp
waves the fees once a month and gives all the proceeds to the bands.
What, no one else thought of that? Spotify should try
it.
On the 16th A Bunch of Jerks and Jay Allen
and the Archcriminals do a live stream from the Midway.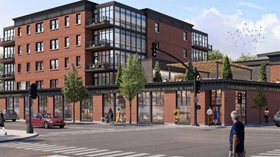 We
see the proposal for the building to replace Doyle's
in Jamaica Plain. OMG! Everything you loved about that corner is obliterated.
See photo to the right.
The Dropkick Murphys do St. Patty's Day in the virtual
stream. They also have a new album called Turn Up That Dial.
Tsunami of Sound have the knack of finding gigs even
in a pandemic. They do a live stream…a Stream of Comedy as
it were, with comedian Jim McCue.
Poly Styrene gets a documentary called Poly Styrene:
I'm a Cliché.
Gretchen Shae of The Knock Ups does
a live stream covering the first U2 album.
Linnea's Garden had a "Nowhere Friday Nights" EP Release
Show on the Once Virtual Venue platform. It's a two hour show with The
Chelsea Curve, Gene Dante, Clarissa
Johnston, Crystal Canyon and Corner
Soul.
Bill Janovitz does a live stream concert from Q
Division. Video above.
The Guns of Brighton fight what they call "a lull
in action for live entertainment" and initiate a series of videos. They
begin by covering the Ramones version of the Spiderman theme.
Bob Cenci's side project, U-ey At the Buoy,
does a live stream from The Midway.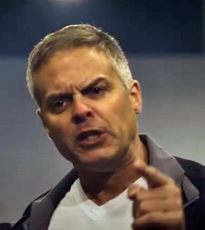 Gene Dante does a great job portraying a hockey coach
on a commercial for Bauer Hockey Equipment.
Gregg Turner from the Angry Samoans
publishes his book Hallucinations from Hell: Confessions of an Angry
Samoan.
Nancy Barile, author of I'm Not Holding Your Coat
gets to say a lot in The
Metal Priestesses Podcast.
Little Steven's Underground Garage made The
Shang Hi Los "Sway Little Player" their "Coolest Song
In The World."
The Boston Beats podcast gets the story on Ralph
Fatello.
It was sad to report two deaths. Dave Aronson, the
guitarist of Jerry's Kids, and Bug Witt, the drummer
of Reddy Teddy.
Blowing Smoke with Twisted Rico podcast interviews
Geoff Palmer of the Connection/Queers/The Guts/Solo.
Guns of Brighton do up "God Save the Queen" for their
second pandemic reliever video.
In another episode of the Back Porch Carousel Eric
Martin played some Scott Walker.
Ritchie Parsons does another Midway
live stream.
Brian Young stopped his association with Breakout
DJ's. He plans to be back at WMFO with A Crash Course
for the Ravers. It takes a few months but he does get back.
Beebe Gallini releases their first album. The
Mess Around does another virtual show featuring Beebe Gallini
along with the regulars and the Dogmatics and Black
Cheer. The video is above.
The Moving Targets resurgence continues with a video
of "Feed". The Video is above.
Color Killer has done a lot of live streams during
the pandemic and now they
have another satisfying set.
Crow Follow does an atmospheric
video for "54".
Music
Martha's Vineyard Ferries have a new album. They are
a long standing group with some notable members.
80s art rock band Vitamin releases an album produced
by Roger Miller.
Rick Coraccio releases a career spanning album: The
Rick Coraccio Anthology.
Andy McBain has a lo-fi classic with his side project
The Mardi Kings.
Kurt Baker covers a whole Ramones
album.
We get hooked on Dutch Tulips and their song "Sick
Middle."
Dug McCormack isn't just an artist…he's a musician.
The new 23 cut album has some inventive and melodic moments.
Dinosaur Jr. release Swept It Into Space
which includes "I Ran Away." That song gets mucho radio play.
Death Pesos releases a live set from WMBR's Pipeline
show.
Nat Freedberg starts releasing one track at a time
from his next album. The first song is "Put Another Cross At The Side
of The Road."
Red on Red's Devil Love release an
album titled Broken Things.
APRIL
There are rumblings of some live shows in late summer.
Nervous Eaters indeed announce some summer shows.
Out of state the club Dusk in RI has the Cranktones
live on April 11.
Oh The Humanity releases a video for the song "Never
Worse" in advance of an album coming out soon. Video above.
The Guns of Brighton are still on a roll. Their third
video is of AC/DC's "Dirty Deeds Done Dirt Cheap".
Video above.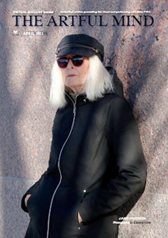 Jane Hudson gets an interview spread
in The Artful Mind art magazine.
Local record label of years gone by, Presto Records, announces it will
rerelease its catalog. Groups include: Miranda Warning,
Classic Ruins, Miles Dethmuffen (with
Linda Bean Pardee and Ad Frank), Evol Twin, The
Visigoths and The Trojan Ponies.
Skybar plays all Red on Red music
in his weekly show Rising.
Above the Basement podcast gets the stories from Oedipus.
Kids Like You & Me interview JJ Gonson
of Once.
The Prefab Messiahs get a song on the soundtrack to
Riverdale. Fame!
Sara on WMBR's Gorilla Got Me does
a show with all music from the Stiff label.
The Chelsea Curve start their Single a Month series
with "Girl Cavedog."
Malibu Lou tells all on the Blowing Smoke
with Twisted Rico podcast. Later it's Nat Freedberg
telling his story to Steeve Ricardo.
Red on Red has a virtual showcase. On are the new
videos from: Kid Gulliver, Shang Hi Los, Linnea's Garden,
Andrea Gillis, Nightspell, The
Chelsea Curve, Devil Love and Brad
Marino.
Paper Tigers do an impressive live stream. We've only
seen them on videos but they dig deep.
It's another episode of Back Porch Carousel with Randy
Black covering Blind Faith's "Can't Find My
Way Home."
Vanyaland reported that Ryan Agate
is leaving his booking position at O'Brien's. He will
be replaced by Daniel Carswell who did the booking
for Charlie's Kitchen and the Hong Kong in
Harvard Square. Daniel is also the bass player for Rebuilder.
Baabes are in Zippah Studios recording.
Little did anyone know what was in store for Zippah
later in the year.
Kids Like You & Me podcast interview their favorite
group – Nice Guys.
Another podcast interview of Al Quint, this time by
Kids Like You & Me.
Above the Basement podcast talks with Juliana
Hatfield who has been busy this coronavirus year.
It's another time on the Midway stage for Richie
Parsons. His guest is David Fredette.
Bay State Rock goes bi-weekly.
Music
"Boy in a Bubble" is the latest recording from Kid Gulliver,
more quality for this talented group.
Wild Stares only had a gap of a few decades before
releasing Automatic Writing Machine, which is a fine effort
no matter what or how it came out.
There were a few teasers but Oh The Humanity releases
a self-titled album.
Boston rapper Dee Tension goes punk with a song titled
"Kenmore Square" that praises the old square before it was transformed
by the moneyed power brokers.
MAY
The BGN makes the news itself by winning Best Rock
Writers in Mach Bell's Cowboy Awards.
It was a hilarious virtual award show.
The BGN now has some live show listings again.
The Chelsea Curve gives us number two in the Singles
Club with the song " All In Time".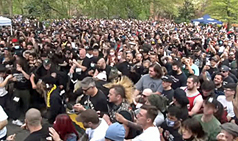 The Tompkins Square Park Free Hardcore show makes the
national news. There were crowds that looked like a potential spreader
evert. Springa had a shirt that said "Black Flag Matters"
that started a social media shit storm too.
"Strutter" by Kiss is the third pandemic relief video
from Guns of Brighton.
Linnea's Garden announce they are doing a direct
to vinyl record. It's a new concept, or an old one reinvented. The band
plays and the record cuts the performance in vinyl right then – one
copy.
Rawstrum does a live stream at the Midway.
Hardwired do a live stream as a benefit for the C
Note in Hull.
Kids Like You & Me get the man of the hour, Daniel
Carswell, to talk about his new job booking O'Brien's.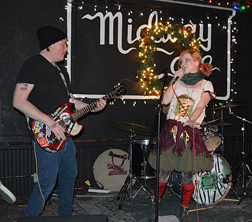 It
was so unexpected it seemed unreal. Linnea Sturdy and
Colman Burns-Takki, members of the Bad Movies,
died within a week of each other. They were both so young. Of all the
things we went through during these times this was the saddest.
Presto Records did their relaunch party on Once's
Virtual Venue.
Jonathan Richman talks about the Velvet Underground
in England's Uncut magazine.
Episode #6 of Bands, Beer and Banter – we'll drink
to that!
Dino Records is remixing an unreleased album by Kenne
Highland's Vatican Sex Kittens called Raunch and Roll. We're
still waiting for this.
It's a complicated story but the city of Somerville took over the
Armory building that was owned by the Slater Brothers.
The podcast All Your Things Are Gone has Richie
Parsons as a guest.
Blowing Smoke with Twisted Rico podcast posts an
episode with Margaret Garrett of Mr. Airplane Man.
Later in the month it's a visit by the legendary Chris Doherty
of Gang Green.
The Rat Tales podcast gets the colorful Mach
Bell to tell his stories.
Willie Loco finds himself in the studio with Kenne
Highland to record songs for an upcoming Dino Records
issue.
We find out that a new club called Roadrunner is
opening in Allston on Guest Street. The capacity is 3500.
The Paper Tigers do a video shoot that's shown on
the Once Virtual Venue.
JJ Gonson wins the Alignment for Local Business Person
on the Year award from an organization of small businesses.
The Prefab Messiahs do a video for "Bubble" that
gets featured on the Brooklyn Vegan website. The video is below.
Mr Vertigo does a video for "You Are Clearly the
Reason Why." The video is above.
Skybar plays the whole new Watts album on his show
Rising on WMFO.
Red on Red announce a huge show in Revolution Hall, an outside venue
in Lexington, for June 26.
They also sign a new act that has both Lee Harington
of the Neighborhoods and Lynda Mandolyn of Tiger
Bomb as members.
In a sign that things are changing back, Linnea Herzog
says on a video stream that it will be her last because she has live
shows coming up.
The Linda Lindas make national news with a set of
punk from a LA library. The song "Racist Sexist Boy" gets heard a lot
on the airwaves. Their ages are from 10 to 16.
61 Ghosts go to Texas to tour where it's allowed.
Geoff Palmer vids up "Many More Drugs".
It took 14 months but the club dates are back. John Keegan
goes to one of the first at the Porch in Medford with
Diablogato and the Devil Twins.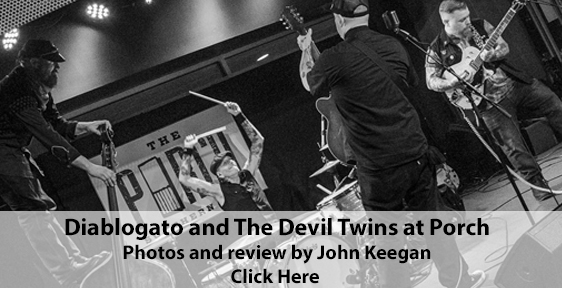 The Midway announces it will be reopening.
The Atomic Fez Fundraiser put together by Smitt
E. Smitty was just shy of three hours. The large number of
acts, the wide variety of presenters and the brisk pacing kept things
interesting. The BGN is even in there at the 23 minute
mark.
As if you can't hate them anymore…Boston Calling
publicizes that they'll have the next show in May 2022. Tickets, that
go up to $1599.99, can be bought now….so they can bank the money for
a year.
The Middle East is setting up to open in August.
Music
The Dents have a new EP.
A new DNZL album, that's cause for rejoicing. It's
titled What Doesn't Kill You.
Locals Sunshine Riot go to Chicago to have their album
Electrical Tape recorded by master Steve Albini.
"Dont Look Down" is the third great single from The Chelsea
Curve in their Singles Club series.
JUNE
Once does a live stream from The Jungle. Bands are
Today Junior and Dutch Tulips. Video
above.
John Sox is the guest on the NYHC podcast. Video
above.
The Grommets and Trusty Sidekick
do a live stream from The Midway.
The Linda Lindas phenomenon gets bigger when they
play the Jimmy Kimmel show.
O'Brien's makes plans to open June 5. The
Union Tavern also starts up.
Blowing Smoke with Twisted Rico has Eric Martin
and Phil Caruso from The Neats
along with Rick Harte of Ace of Hearts.
We find out The Cantab has been bought by Tim
Dibble a long time fan of the club who plans to bring it back
to life. Six months later he does just that.
It's outside, it's in a parking lot actually, so the Rockin'
Dune Tunes in Wellfleet is on for this year. The run down is:
Beware The Dangers Of A Ghost Scorpion, Crow
Follow, Margaret Garrett of Mr Airplane
Man, Atlantic Thrills and a bonfire on the
beach.
Maddie from Stormstress has brain
surgery. She recovers with no problems.
Juliana Hatfield does another live show from Q Division.
She does her whole Beautiful Creature album.
We find out Dan Kopko has another band going. It's
Peppermint Kicks with Stomper Sal
Baglio.
John Keegan does an interstate club hop. He goes north
to NH to see a live show with Muck and the Mires,
Watts and Wizzardess then back to
Mass for Linnea's Garden at The Jungle.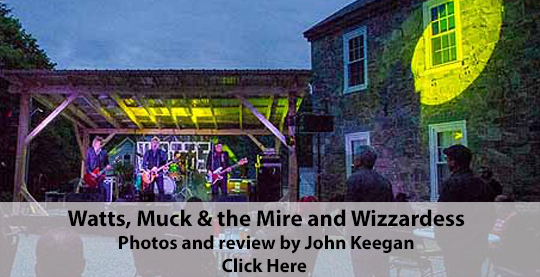 Episode #7 of Bands, Beer and Banter is posted. We
find a new band to love called Evil Felipi on this
show.
Kid Gulliver has a video release party for their Bee
Gee's cover of "I Started a Joke". Bands included: Speed
Fossil, Kurt Baker, Spongetones, The Tearaways,
The Golden Needles and Stupidity. Video below.
We saw a lot of videos this year…our favorite? "This Monkey" by Geoff
Palmer. It's the song and the video combined that just knocks
us out. Video above.
John Keegan does an interview with the band that's
doing a LOT during the pandemic – The Chelsea Curve.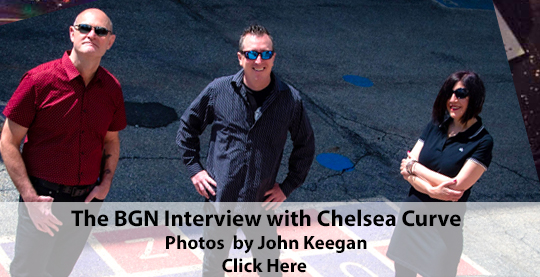 The Somerville Theatre is getting a rehab and they
are building a club called the Crystal Ballroom upstairs.
In a few months, sure enough, shows are booked.
Midnight Creeps from Providence are on the soundtrack
to an indie horror flick called Thrust.
Once books 20 shows for their Boynton Yards outside
performance area and they got a liquor license.
Kurt Allen Henry, the guitarist of 80s group Phobia,
dies.
Music
Mr. Airplane Man's Winter Psalm is a six
song EP.
Today Junior's new song "Summer Dreams" is transporting.
Dug McCormack drops a big one! There's 39 cuts on
his Several Nudes album.
Little Billy Lost lets loose with "Dancing with The
Devil You Know".
If you want to follow Crow Follow you've got to go
way, way low as they do in their new song "Long Ride."
The Peppermint Kicks has a song called "Hey, Fanzines"
that we take to heart. "Shag '72" pines for the old days in 1972.
Lee Harrington & Lynda Mandolyn release their first
song as a group with "Real Love".
JULY
Red on Red has their Summer Showcase
in Revolution Hall in Lexington. On the bill was The Jacklights,
Cold Expectations, Justine's Black Threads,
Daylilies, The Chelsea Curve, Devil
Love, Andrea Gillis, Lee Harrington
and Lynda Mandolyn and Linnea's Garden.
Eric Law captured it all in his coverage. Click the
photo link below for the review and photos.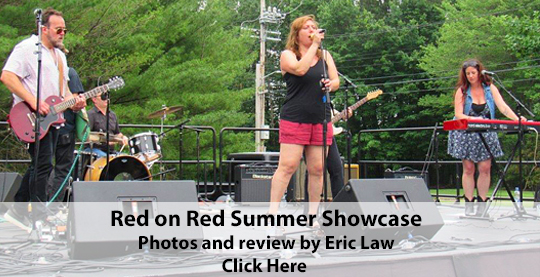 Hilken Mancini gets some well-deserved attention with
an interview in Authority Magazine.
The Sheila Devine play the Sinclair.
One of the most important people in the early Boston music scene dies.
Mr. B (Mike Bastarache) will be much missed.
John Keegan was down the Cape with the Rockin'
Dune Tunes. He also had time to take in the Al Janik
Polka Party.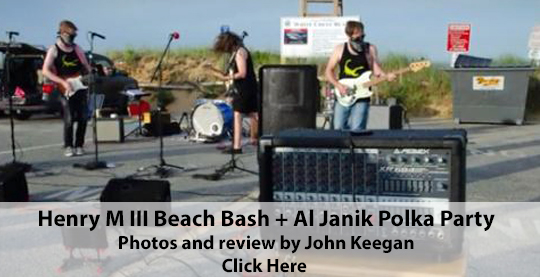 Willie Loco and Anne Rearick have
a twin art show in Gloucester.
Ever Fallen in Love is a book about the songs
of Pete Shelley of the Buzzcocks.
The Rat Tales podcast features a live set by Richard
Mirsky.

The Jacklights make the cover of The Dig
magazine.
Brett Milano writes about Thalia Zedek
on the occasion of her show at the Midway playing her first solo album
in full. Thalia also is the guest on Blowing Smoke with Twisted
Rico.
The Plough & Stars say they want proof of vaccination
to get in. This becomes common as time goes on.
Once has the Indie Rock Flea Market
at the Boynton Yards – with many bands too.
The Middle East has some shows in the Corner
and Zuzu's.
Evil Filipi do a video for their new song "Figuring
It Out."
Music
A new EP by Taken By Vultures titled The Geriatric
Throne.
The Prefab Messiahs have a wonderful psych album with
Music for Concerned Citizens.
Geoff Palmer releases Charts & Graphs. Lots
of gems on that.
A new song by Kurt Baker titled "Anytime At All."
Endation is no more but they release an old recording
named Ultra Chromatic Bitter Bliss and it's well worth hearing.
Red on Red dips into the past and re-releases two
songs from Quest for Tuna.
The Saplings have an album of material that was mostly
done during the pandemic called The Apocalypse Musical.
AUGUST
The Vault in New Bedford has 39 Covid cases that originated
at a July 10th show.
The C Note in Hull seems to have made it through the
shutdown and is starting shows on August 13.
Once receives $400,000.00 in a federal grant.
Gene Dante has a video for their album track "She's
Outside." Video above.
Muck and the Mires have a fun new video for "Good
Enough." Video above.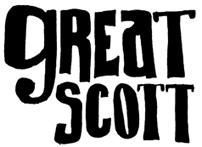 Great Scott is moving to a new home. As we wait for
that they set up a website
with some info from their history.
Dave Tree has an art exhibit at the Middle East.
The Rat Tales podcast has drummer Tim Jackson
of Robin Lane and the Chartbusters.
Jamaica Plain has their Porchfest. What a perfect
pandemic idea that Porchfest turned out to be.
Lou Mansdorf brings his sparkling personality to the
Born Too Late podcast.
Hong Kong announces that they will soon start booking
shows. It doesn't work out. Later in the year they stop all shows. The
punk part of the Hong Kong is history.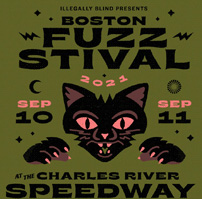 The Fuzztival makes it work – they will hold the festival
this year in the open at the new Charles River Speedway
on Western Ave.
Aeronaut Brewing Company, also on Western Ave throws
a Beach Party with Tsunami of Sound
Part one of the Kenne Highland interview in Ugly
Things comes out.
Des Desmond starts up shows at his new Magic
Room club in Norwood.
A Brockton Hardcore show reported that several people
tested positive for Covid after the show, some vaccinated.
Man Ray says they are coming back with a location
on Prospect St in Cambridge. It doesn't seem to have happened as of
the end of the year.
The Baabes sign to Riot Records.
Nancy Barile is the featured guest on Blowing
Smoke with Twisted Rico. Later in the month he has Justine
Covault of Red on Red Records is featured.
A.J. Wachtel's podcast Wachtelligence
has an interview with Jimmy Harold the owner of the
Rat.
Johnny Ramone's guitar goes on auction for $500,000.00.
Joshua Clover writes a 144 page book on the 1972 song
"Roadrunner."
John Keegan makes a video slide show off a gig at
the Midway with Crow Follow, The Concerns
, the Skirts and Conner Storms
Music
Another single from The Chelsea Curve called "Drag."
The Jacklights have been working up to it…now the
whole new album named Drift.
Double Star a ska band from the suburbs has a nice
effort with the EP Say Something Now.
Rum Bar has … is it the third? … sampler this year. XOXOXO
has 15 cuts.
The Back Porch Carousel records a tasty one with "Don't
Need to Make You Mine" written by Adam Sherman.
Then again another outstanding single by The Chelsea Curve
titled "Inconceivable."
The Velvet Underground get a tribute album from their
original label – Verve.
SEPTEMBER
It was two years of cancellations but the Zulu's
had their triumphant return at the Paradise. John Keegan
had the report and photos. Click the photo link below to read all about
it.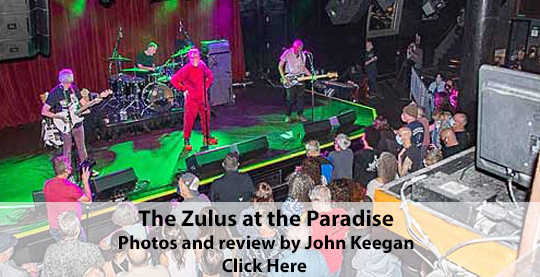 Dinosaur Jr. cancel the first half of their tour because
of Covid and Kiss does the same.
Blowing Smoke with Twisted Rico brings in Ed Valauskas
of Q Division and Gravel Pit to tell some tales.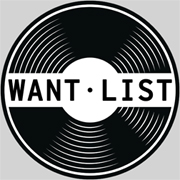 Another vinyl store opens. Want
List Records is in Newton and Brian Coleman
of Buy Me, Boston fame is one of the owners.
Norton
Records rereleases two Real Kids albums
(the first album and Better Be Good) in hip pocket form…that
means in a cardboard cover rather than a jewel case.
Kids Like You & Me's first show since the pandemic
is Saturday Sept 18. Groups are: Margaret Garrett (from
Mr. Airplane Man), Piniclunch, Thighs,
Sidebody, PCP & the Knives and Johnnie
and the Foodmasters. It's at Lincoln Park, Somerville.
Above the Basement podcast interviews Linnea
Herzog.
The New York Public Library acquired Lou Reed's archives
in 2017. This month they have the first curated show from that material;
"Lou Reed: Caught Between the Twisted Stars."
The Chelsea Curve have a video for "Inconceivable."
Many of John Keegan's photos are featured.
Red on Red's Swedish band Stupidity releases a video
of the song "Material Girl" with guest Keith Streng of the Fleshtones.
Frank Rowe has his 70th birthday party at The
Midway. Classic Ruins plays of course along with the Unnatural
Slacks. That's the Unnatural Axe with different
members for this show. Hit photo link below to get the story.
Also playing are Kenny Highlands Airforce and Steve Aquino's
Link Brothers. John Keegan has the report.
Hit the photo link below for the story.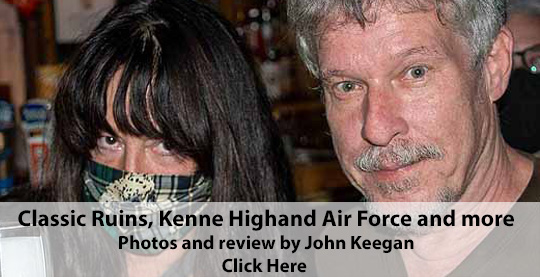 The Stranglers have a compelling vid for "This Song".
Hilken Mancini of Punk Rock Aerobics is the guest
on Blowing Smoke with Twisted Rico.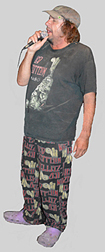 A.J. Wachtel's Wachtelligence podcast has the main
man himself – Willie 'Loco' Alexander.
The legendary Larry Lifeless of Kilslug and Upsidedown
Cross dies.
We see Girl With a Hawk and Black Helicopter
outside at Boynton Yards.
Somerville Porchfest happens in the first week of
the month.
There are some cases of Covid reported from the NYC Randall
Island Electric Zoo Festival. It was outside but it was a very
big crowd.
Two local videos…one from Amplifier Heads on the song
"Glamorama" and Stop Calling Me Frank with "I Did It
Just Too Annoy You."
Music
We were waiting to get all the songs we heard live from Rockin'
Bob Punk Band in recorded form…now they are released on Bandcamp.
Doug Tuttle does an uncanny recreation of "Just Dropped
In (To See What My Condition Was In) on a Kenny Rodgers Tribute album.
The Hi-End whips ups a tight "Action Speaks Louder
Than Words."
OCTOBER


It's back! Crash Course for the Ravers is finally on
the air again on WMFO, every Saturday now from 1 to 4 pm.
A big show, the type we haven't seen for a year is at the Paradise.
It's Boston Rocks for Julie Duffy Benefit featuring:
Duncan Wilder Johnson, Jimmy Weeks,
Chris Trapper, Scratch, Heretix,
Stompbox, Sam Black Church, Only
Living Witness and Tree on Saturday, October
2 at the Paradise.
It was postponed a few times over the course of a year but it finally
happened. The Nervous Eaters, Willie Loco and the Boom Boom
Band, Barrence Whitfield and Carissa
Johnson played the big show at the Paradise.
We have the review, photos and a slide show by John Keegan
– to see that, hit the photo link below.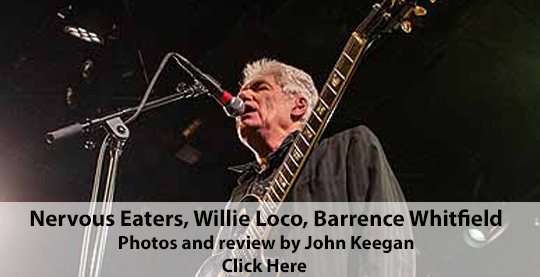 Red on Red announces a collaboration with Woolly
Mammoth to start Red Mammoth Concerts. They
will be doing concerts at the French
American Victory Club in Waltham.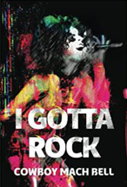 He never sleeps, evidently, Mach Bell now has book
number two with I Gotta Rock. He promises the whole story of
his career.
Once is transitioning to inside shows at the Elks club
in Cambridge, the Crystal Ballroom and The Rockwell
in Davis Square.
The Jacklights have a video for the songs "Monster
Love."
Red on Red does an hour video on Kid Gulliver focusing
on their new vid for "Stupid Little Girl"
Blowing Smoke with Twisted Rico gets a good interview
with Jon Butcher who has seen it all.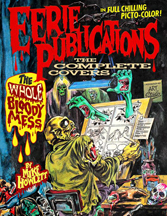 Mike Howlett of A Bunch of Jerks also
is an author! He has several books dealing with Eerie Publications.
His latest is EERIE PUBLICATIONS – the Complete Covers: The Whole
Bloody Mess.
The 4752 Festival in New Bedford with 13 bands playing
in six store locations in downtown New Bedford from
2:30 pm till midnight. Sounds like an idea that we should duplicate
here in Mass.
Tom White of Unnatural Axe was also a child actor
on Zoom on PBS. This month he launches his
documentary on the TV show. The episodes are a swift 5 minutes each
and deal with a facet of the show.
Hilken Mancini's latest episode of Punk Rock Aerobics
includes an introductory interview with Bill Janovitz
of Buffalo Tom. See video below.
Cold Expectations create a video for "In the Padlocked
Night". See video below.
| | |
| --- | --- |
| Punk Rock Aerobics | Cold Expectations |
The long wait for the Velvet Underground documentary
is over as it plays the Kendall Square Cinema.
Blowing Smoke With Twisted Rico has two members of
Slap Shot in the studio. Mark McKay
and Steven Risteen talk about the "Slap Not" show coming
up at the Middle East on Sunday Nov 21. That show resulted in spreading
a few cases of Covid.
Later in the month Steeve Ricardo has all of Muck
and the Mires in the studio for rock talk.
We got to a Rock & Roll Yard Sale held by Richie
Parsons, Jim Botticelli and Albert
O. It was worth it for the music stuff … and the hang. We
hope this happens next year too.
John Keegan goes north to Geno's in Portland and gets
the tunes from Muck and the Mires, Tiger Bomb and The
New England Mafia (Kurt Baker, Brad
Marino). Click the photo link below for the whole story.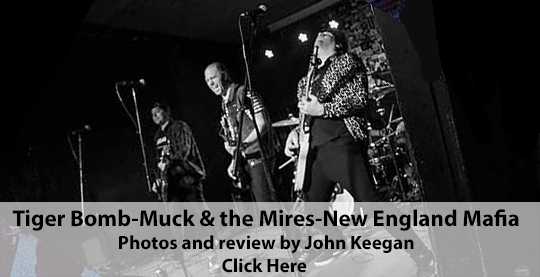 John Keegan goes to the Lily Pad for the Field
Day Duo.
Ex-Boston rock critic Clea Simon has a book titles
Hold
Me Down which has the Boston Rock scene as the backdrop.
Word gets out that there's going to be a documentary on the Outlets
and they are looking for material…photos, recordings or even stories.
Music
Stubborn Hearts has a new 7 song album titled What
Fresh Hell.
A Bunch of Jerks have a new album titled Shart
Topping Hits.
After some teaser singles Gene Dante and the Future Starlets
finally release their whole new album DL/UX.
Black Beach release Giallo, a 5 song EP.
We can hardly believe our ears as The Chelsea Curve
drop yet another fantastic single. This one is called "7000 Hours."
Another compilation sampler from Rum Bar? Why not.
This one is 38 songs long and is titled Rocktober II
The Stigmatics give us nice Halloween song called
"Creeper."
NOVEMBER
Red on Red has a show at the French American
club in Waltham called Dress Like A Rock Star…and many do.
Groups playing are Justine and the Unclean, Kid
Gulliver, Key of Caustic, Speed Fossil,
Beth and Hey Blondie. John
Keegan hits the gig and gets the goods – hit the photo link
below for the details.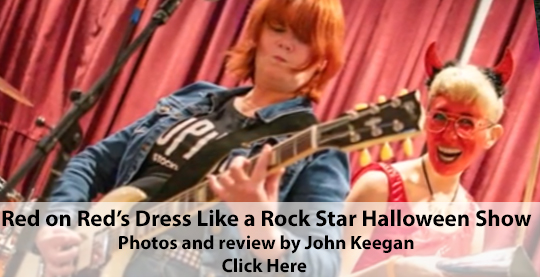 In Club news: The Hong Kong had a few shows but decided
to call it quits. Roadrunner the new venue in Allston
announces shows for March of 2022. A new club in Maynard is called Sanctuary
and is housed in a church.
Rich Mirsky lead his merry low budget band HIXX for
Hixxgiving, that unique celebration of Thanksgiving, at the Midway.
This year's line up was – Black 13, HIXX, and
Phantom Ocean.
Weakened Friends have a two day album release show
at O'Brien's on Friday and Saturday November 19 and 20 for their new
disc Quitter.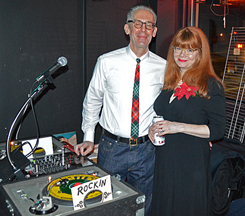 John Fuller aka Easy Ed announced
he's leaving Boston to live in Pennsylvania. He was responsible for
quality Rockabilly on the radio and in the clubs. His influence will
be much missed.
The book Where the Wild Gigs Are is published.
It's about alternative clubs in the US. Boston gets articles on TT The
Bears, The Boiler Room, The Gallery East, The Paradise and Chet's Last
Call. No Rat? There is going to be a volume two.
Yung Punk which is a documentary about Killer
Color is shown in the DOC NY festival. In a month we get to
see it as it is broadcast on PBS.
Shake the Faith do an interview on Blowing Smoke with
Twisted Rico in preparation for their reunion show at the Magic Room
in Norwood this month.
Captain Easychord does his first reporting for us
as he covers a Halloween show at the new Crystal Ballroom at the Somerville
Theatre. He hears Deva, a Devo tribute
band and then to the Jungle for Wired for Nirvana,
Gretchen (Shae) and the Banshees and Spinal
Max. Hit the photo link below for Captain Easychord's report.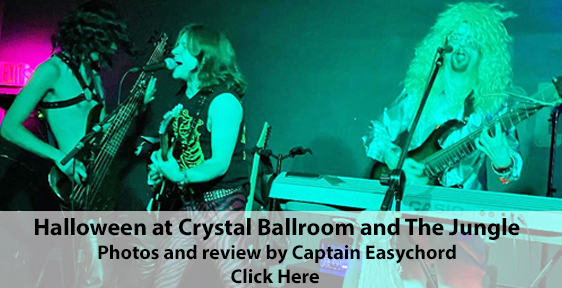 The International Pop Overthrow returned to Boston
this year and at a new location. It was November 18-20 at the Flying
Embers Brewery located at 152 Hampden St. Bands were: Richie
Parsons, Corin Ashley, Key of Caustic,
Peppermint Kicks, Glowbox, Kid
Gulliver, Kris Rodgers and 1.4.5.
.
The Colman Burns-Takki and Linnea Sturdy
Memorial Benefit Show was Saturday, November 27 at the C Note
in Hull.
Stop Calling Me Frank drags out some old footage for
the video for "Hard Lovin' Man."
Bill Whelan the bassist for Bullet LaVolta
dies.
Baabes do a wild vid for their song "Bad Boy, Worse
Drugs." Video below.
Actor|Observer do a stark and powerful video for "White
Mare." Video above.
The New England Ska Summit Documentary featuring Bim
Scala Bim and filmed at Once is shown online.
Brian Young plays the whole album of Asa
Brebner: I Am Not Gone Vol 2. on his show Crash
Corse for the Ravers on WMFO.
Captain Easychord gets to the new Sanctuary
in Maynard to see a Red on Red Showcase with Justine and the Unclean,
Girl with a Hawk, Tiger Bomb, Andrea Gillis Band and When Particles
Collide. To see the full report click the photo link below.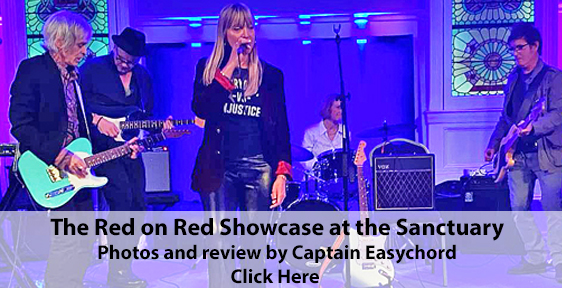 Michael Kane is interviewed on the Struggling Artists
podcast.
Captain Easychord goes to a big show in a small club…the
Plough & Stars. This version of The Mess Around has
the usual suspects plus Mach Bell to round things off. Then it's part
II with the artists from Asa Brebner: I Am Not Gone Vol 2.
Robin Lane performed and then Jimmy Harold of the Rat made a visit.
Rick Berlin writes his second book. The Big Balloon
tells a lot of stories, some are of his career, some of his life outside
music.
Music
Nat Freedberg says it's over…the wait that is. He
releases the entire Freeloader II.
Glowbox dish up a glorious 10 song pop album titled
Your Call Is Important To Us.
Another good one from Michael Kane & the Morning After's,
"Tear This World Apart" is attention getting.
The Shang Hi Los give us the single "Plymouth Rock".
Stop Calling Me Frank get help from Fleshtone Keith
Streng for "Hard Lovin' Man".
It was a busy year for Crow Follow who have another
single out called "Copper Flowers".
Red on Red has a 5 song Christmas themed EP with Stupidity,
Linnea Herzog, Justine's Black Threads,
Berk & Lehane and Cold Expectations.
Say it isn't so. The Chelsea Curve release their last
single in their series. "Top it Up' is the title. Now we wait for the
album.
Red on Red celebrates their one year anniversary with
HOT, a compilation of the artists on their roster. It includes
a 'lost' Neighborhoods track called "Crown Victoria".
Il Mostro gets heavy…that's what they do…on their
Occult Practices EP.
Adventure Set drops another classy synth number titled
"Narcoleptic."
DECEMBER
The NYHC Chronicles do live video show on Sunday,
December 12, celebrating the 40th Anniversary of the album This
Is Boston Not L.A. Guests were Bob Cenci (Jerrys Kids), Bob "Furapples"
Hatfield (F.U.'s), Brian Betzger (Gang Green / Jerry's Kids) and was
hosted by documentary maker Drew Stone. Video above.
Red on Red had a Holiday Video Showcase with Stupidity,
Cold Expectations, Linnea Herzog,
Simone Berk doing "Blue Bayou", Justine's Black
Threads and Beebe Gallini. Video above.
We sadly report the deaths of Donna Tessari, Mr. Curt's
wife, and super fan and scene maker Mike Oliver.
| | |
| --- | --- |
| Donna Tessari | Mike Oliver |
The Cantab opens its doors again, now with a new owner
with a belated opening of Club Bohemia too!!
This month Blowing Smoke with Twisted Rico interviews
critic Brett Milano and then gets Matt Kelley
the drummer for the Dropkick Murphy to spill some stories.
John Keegan get to one of the most interesting shows
of the year. Thalia Zedek and her band and with Live
Skull. This was at the Midway. Click photo for the entire report.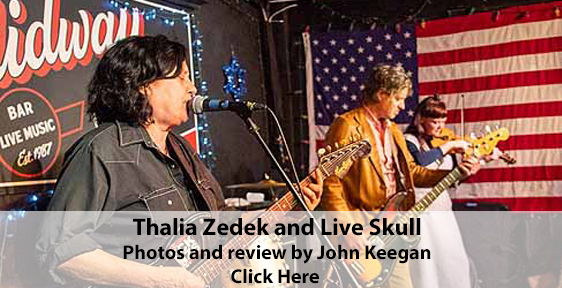 The Dropkick Murphys have a video for the song "Good
as Gold" which has a lot of local references in it.
Part two of the Kenne Highland interview in Ugly Things comes out.
Brian Young played a set of songs for Mike
Oliver. He had an interview with Mad Painter
who are releasing an album.
Captain Easychord sees The Chelsea Curve
at their first day of residency at The Jungle. He then
club jumps to the Plough & Stars for the Handymen.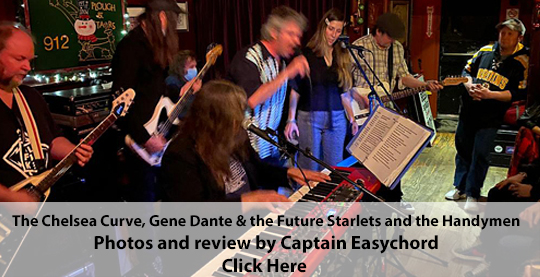 Bill Conway the drummer for Morphine passes away.
Wanna Hear It Record Store in Watertown celebrates
one year open…and they might need a bigger space!!
It's the end of the year and Tommy White logs in his
12th Chapter in this Zoom documentary. It's been interesting and will
continue into the new year.
Kenny Chambers of Moving Targets
talks with Blowing Smoke with Twisted Rico.
The Rat Tales gets Johnny Angel via
phone. Angel can be so blunt and that makes for good
listening.
We get the shocking news that Zippah Studios in Brighton
has burned to the ground. There is a GoFundMe campaign to help owner
Brian Charles.
Captain Easychord gets to the Thrash'n'Bang
Christmas Party with Baabes, Stop Calling Me Frank,
The Grommets, The Instamatics and Kermit's Finger.
He also made the Middle East Up for Freeloader,
The Hi-End and Tim McCoy Rock Quartet.
Hit the photo link below for the stories on these two shows.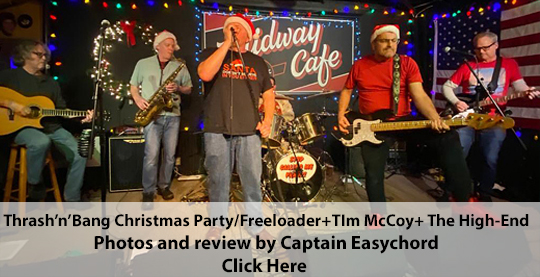 The entire run of the Boston
Phoenix is posted online.
Music
The best song yet by Screw Cart – "Foot Washer" gets
biblical.
The Dogmatics' new song on Bandcamp is "Automat Kalashnikov",
that's another name for an AK-47.
Waiver Wire have a lot of craft in "Battery Health".
Rum Bar's Beebe Gallini gives us a Christmas Song…garage
style…"You Ain't Getting Nothin'."
Dirty Truckers tug the heart with "Turn Your Head
Around".
The Black Helicopters cover the Beach Boys Christmas
song "Man With All the Toys."
And there it goes…2021. What will 2022 have in store???