The Courettes – New video + UK tour dates!

WATCH THE VIDEO FOR THE NEW SINGLE 'MISFITS &
FREAKS' HERE:
UK
TOUR FOR JUNE ANNOUNCED TODAY!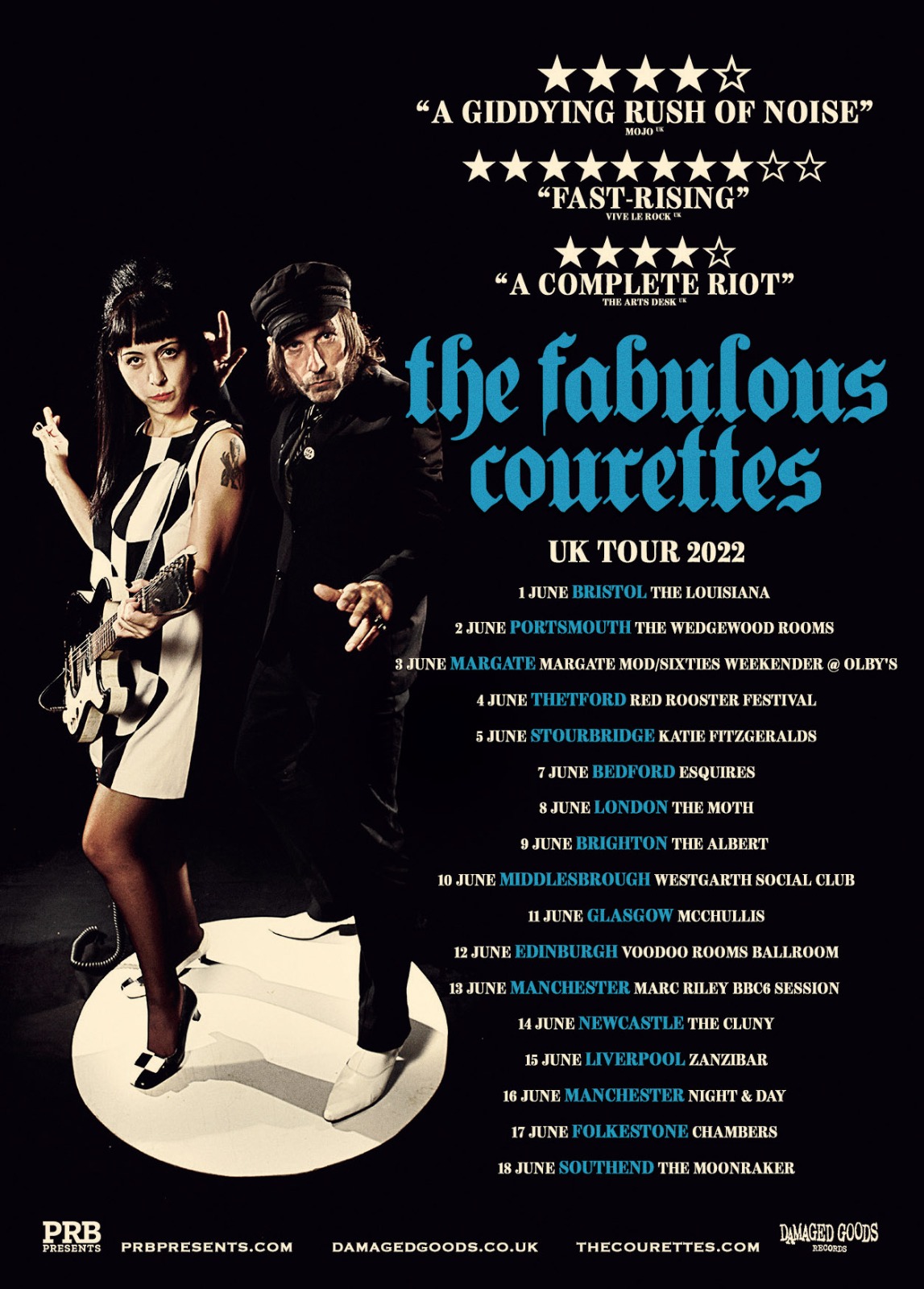 "Adrenalized crunch! Martin and Flavia make spit
'n' snarl garage rumble-meets-Phil Spector pop". Mojo

"Their songs are short, hard-hitting mini
masterpieces – every track could be a hit single." Vive Le
Rock
"Fuzz-crunched garage rock doused in soulful
60's girl-group melodies. From the off, they blast in."
Louder Than War

The
Courettes are an explosive garage rock
duo from Denmark and Brazil who blend an exciting concoction of garage, surf,
60s girlie pop and riot grrrl attitude. Completed by the husband-and-wife
partnership of vocalist/guitarist Flavia Couri (from Brazil) and drummer/backing
vocalist Martin Couri (from Denmark, where they are based), following the
critically acclaimed release of 2021's 'Back In Mono' album
and a hugely successful UK tour in October of that year, the very fabulous
Courettes return with a brand new single and news of a UK in June later this
year.
Available on 7" (with
one thousand copies on white vinyl), 'Misfits & Freaks' is a new
recording of a stand-out track from 'Back In Mono', coupled with a
brand-new song called 'Killer Eyes' on the flipside, available
February 25th via Damaged Goods Records.

"Misfits &
Freaks" is a song about a bittersweet concert we played
on the very evening France went
into its first lockdown in 2020," explains Flavia Couri.
"The pandemic broke loose in
the middle of our tour and uncertainty was in the air. It felt a bit like being
in a kind of science fiction film. People were partying that day as if there was
no tomorrow. And it was indeed the end of the world as we knew
it.

We tried to capture this
feeling in the video featuring some old b-movie apocalyptic scenes, while we
keep on partying, singing, and dancing at the end of the world. We´ve all
been struggling to keep ourselves sane, safe, strong, and sweet in the last two
years. And we did it. Cheer up!"
Watch the 'Misfits
& Freaks' video HERE:
Hot on the heels of the
excitement The Courettes created last October as the UK welcomed back live music
with open arms, The Courettes return in June 2022 for a full UK tour.

"Our last tour in
the UK in October was really a blast. The world was opening again, the venues
were packed, many shows were sold out and we had such a great time. We are
looking so much forward to being back this Summer. We´ll be promoting our
latest album "Back in Mono", our new single "Misfits &
Freaks" and a very special new release that is due to come out on Damaged
Goods Records by the beginning of the tour. Cheer up, cheer
up!"
Catch The Courettes
live at the following dates:
1 June Bristol The Louisiana
2 June Portsmouth The Wedgewood Rooms
3 June Margate Margate Mod/Sixties Weekender @
Olby's
4 June Thetford Red Rooster Festival
5 June Stourbridge Katie Fitzgeralds
7 June Bedford Esquires
8 June London The Moth
9 June Brighton The Albert
10 June Middlesbrough Westgarth Social Club
11 June Glasgow McChuills
12 June Edinburgh Voodoo Rooms Ballroom
13 June Manchester Marc Riley BBC 6Music
Session
14 June Newcastle The Cluny
15 June Liverpool Zanzibar
16 June Manchester Night & Day
17 June Folkestone Chambers
18 June Southend The Moonraker
Tickets go onsale Thursday
Feb 17th at 10am and will be available HERE: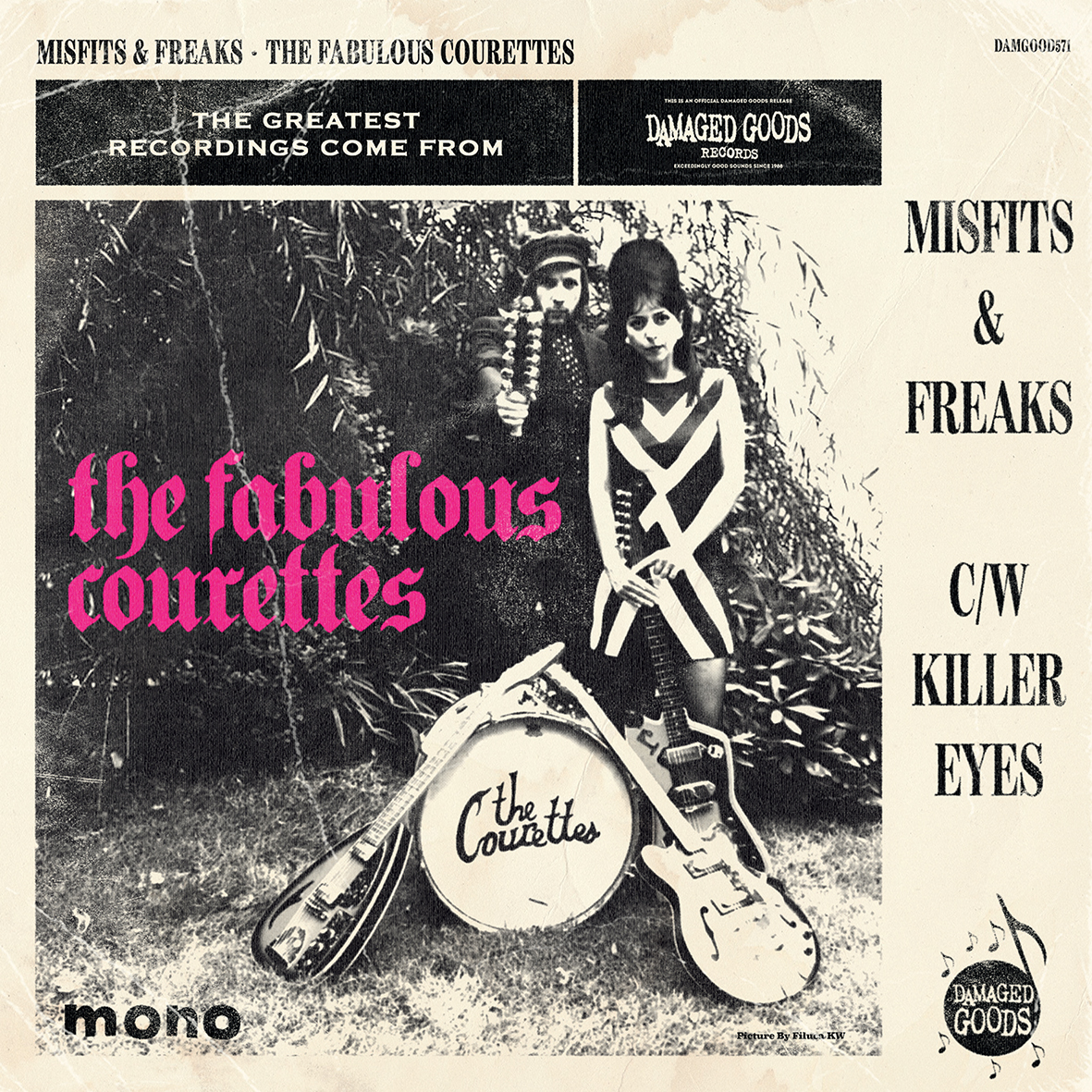 The A-side
'Misfits & Freaks'
is a
re-recorded track from the The Courettes' third album, Back In
Mono. Presented
here with a longer intro and extra verse.
It comes
backed with an exclusive new song 'Killer
Eyes'.
Cheer up, cheer up! It's the end of the
world!
"We wrote
'Misfits & Freaks' after a bittersweet concert in France in 2020, on
our last tour in the pre-pandemic world. We played on the very evening France
went in its first lockdown – our show at 9 pm, lockdown at midnight. Back then,
nobody actually knew what was a lockdown, what was a pandemic and what the hell
we were getting into, so people that day really partied as if there was no
tomorrow. The audience and us, we were really having a party at the end of the
world! That's how we felt that day: at the end of the world as we once knew
it. And I guess we were right on that.
It's also an ode to all the misfits & freaks, a
call to our punk rock community. We were worried about the possible consequences
of the pandemics, with venues being closed and the economic choking of
independent and experimental artists. The fear of a boring new world without
places to breathe and drift away from the established mainstream cultural diet,
a boring new world without the community feeling that only a rock show can
create. A call against the normalisation of Netflix and isolation, a hope that
us misfits and freaks would survive. And now, two years later, we can say that
we did. Cheer up!"
SOCIAL MEDIA
https://www.facebook.com/courettes/
https://twitter.com/thecourettes
https://www.instagram.com/thecourettes/
See you down
the front!
Ian &
Duncan