Wild Billy Childish & CTMF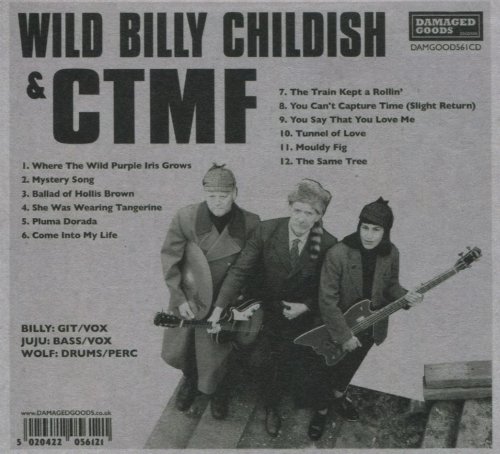 Tracklist:
01. Where the Wild Purple Iris Grows
02. Mystery Song
03. Ballad of Hollis Brown
04. She Was Wearing Tangerine
05. Pluma Dorada
06. Come Into My Life
07. The Train Kept a Rollin'
08. You Can't Capture Time (Slight Return)
09. You Say That You Love Me
10. Tunnel of Love
11. Mouldy Fig
12. The Same Tree
The last we checked in with Billy Childish, he had cranked out five albums in roughly a year with his combo the William Loveday Intention, where he embraced some of the most polished instrumental technique of his career (2020's People Think They Know Me But They Don't Know Me) and indulged his previously undocumented fandom for Bob Dylan (2020's The New and Improved Bob Dylan, Will There Ever Be a Day That You're Hung Like a Thief, The Bearded Lady Also Sells the Candy Floss, and 2021's Blud Under the Bridge). Given the very traditional-folk title of 2021's Where the Wild Purple Iris Grows and the fact it includes a cover of Dylan's "The Ballad of Hollis Brown," one is forgiven for wondering if Childish's Zimmerman obsession led him to turn his usually rockin' band CTMF into some sort of folk-rock project. Such fears are groundless: while Where the Wild Purple Iris Grows is a few shades more sophisticated than the glory days of Thee Headcoats or Thee Mighty Caesars, this is still Childish and Company in prime garage punk mode, with crashing drums, booming bass, gnarly guitar with razor-wire solos, and Childish's unapologetic, fervent vocals. Even the Dylan cover is transformed into a Yardbirds-turned-primitive garage blues workout with feral harmonica work and a Bo Diddley-style rhythm that powers it like a locomotive, and his tear into "The Train Kept a Rollin'" raises the roof in similar fashion. The lyrics to Where the Wild Purple Iris Grows indulge in imagery that could have been the foundation of a folk song, but it turns out to be one of the most overdriven numbers on the album, raw fuzz with a bit of psychedelia as a chaser. And there's a bluesy insistence to "She Was Wearing Tangerine" and "You Say That You Love Me" that cuts deep and shows that more than four decades into a recording career that's prolific enough to make Robert Pollard seem like a piker, Billy Childish is still full of fire and plays rock & roll like his life depends on it. Maybe it doesn't, but listen to Where the Wild Purple Iris Grows and try to convince yourself this music isn't his lifeblood. It won't be easy.