Black Hills Soul | Interview | "The Black Hills is a spiritual place"
Black Hills Soul | Interview | "The Black Hills is a spiritual place"
---
'Where It All Begins' is their debut album that was released November 2021 and it's full of soulful rock and roll.
Would you like to talk a bit about your background?
James Sautter: I grew up here in the Black Hills of South Dakota. Started playing in bands when I was 18. In those first few years, I played in a 25 piece college jazz band, a group playing 50's music covers, and a rock cover band. The rock cover band played a few original songs, and I wrote my first song back then when I was about 18. After a few years of playing in different bands in this area, I moved to Los Angeles to explore music. My brother Bill was already out there playing drums, so I met up with him and we eventually formed a blues band with our friend Tom Eliff (now the lead vocalist for The Mighty Mojo Prophets). Tom was the first musician I really enjoyed collaborating with in songwriting. Unfortunately, we never got the break we needed in the music business at that time, and eventually my brother and I went back home to the Black Hills. I played in many more rock and blues bands out here before eventually forming Black Hills Soul with my good friend and keyboard player Todd Tetreault.
Todd Tetreault: Started playing drums at 15, then switched to keyboards. Wrote my first song in 7th grade. It was a song for a girl, but she never heard it. I was shy. Had my first gig with a band called Blurock in high school. Played with a college jazz band. Then later, I was inducted into the South Dakota Music Hall of Fame in 2015.
Scott Bellew: I was born and raised in the Black Hills. Was the last Airforce brat in the family and the only one born here. My brother was born in Morocco. When my father got stationed here, my mom looked where it was on a map…and cried. They never left. Started playing guitar at 10, Teisco Del Ray guitar and a Checkmate amp. Kind of wish I still had those. Started writing songs almost from the start. I used to rewrite jingles, thinking that mine were better than what they had. Was playing in bands by age 16 and never stopped. I got a music degree from Black Hills State college. Playing in the jazz band really taught me structure. I should add that I was also a heck of a bass clarinet player. (That one is for the lady that thinks bass clarinets are sexy…you know who you are…but I don't). After graduating, I was a school band director for a bit. I moved to Los Angeles, went to the Guitar Institute in Hollywood and played some Pay-to-Play gigs while working in a studio in Burbank, California. After tiring of all the fortune and fame, or was it starvation…hard to tell them apart sometimes, I moved back home and continued playing in bands. One of those was a band called Innocent Bystander with James and Bill.
Bill (William) Sautter: Had a few paying jobs in high school playing big band music for Shriner parties. I soon moved to Los Angeles, where I met a guitar player who had hundreds of songs. We played hard rock/metal for a while. Then James came out west and we started playing blues with Tommy Eliff who currently leads his band, the Mighty Mojo Prophets. We wrote and recorded a bunch of songs. Soon after coming back home to South Dakota, my first ever cover band was Innocent Bystanter with Scott and James. Then later made good money playing 50/60s music in a band called Dr K & the Shantays, and more money playing country music in a band called Phatt Daddy. I am extremely happy to get to write and play with Black Hills Soul.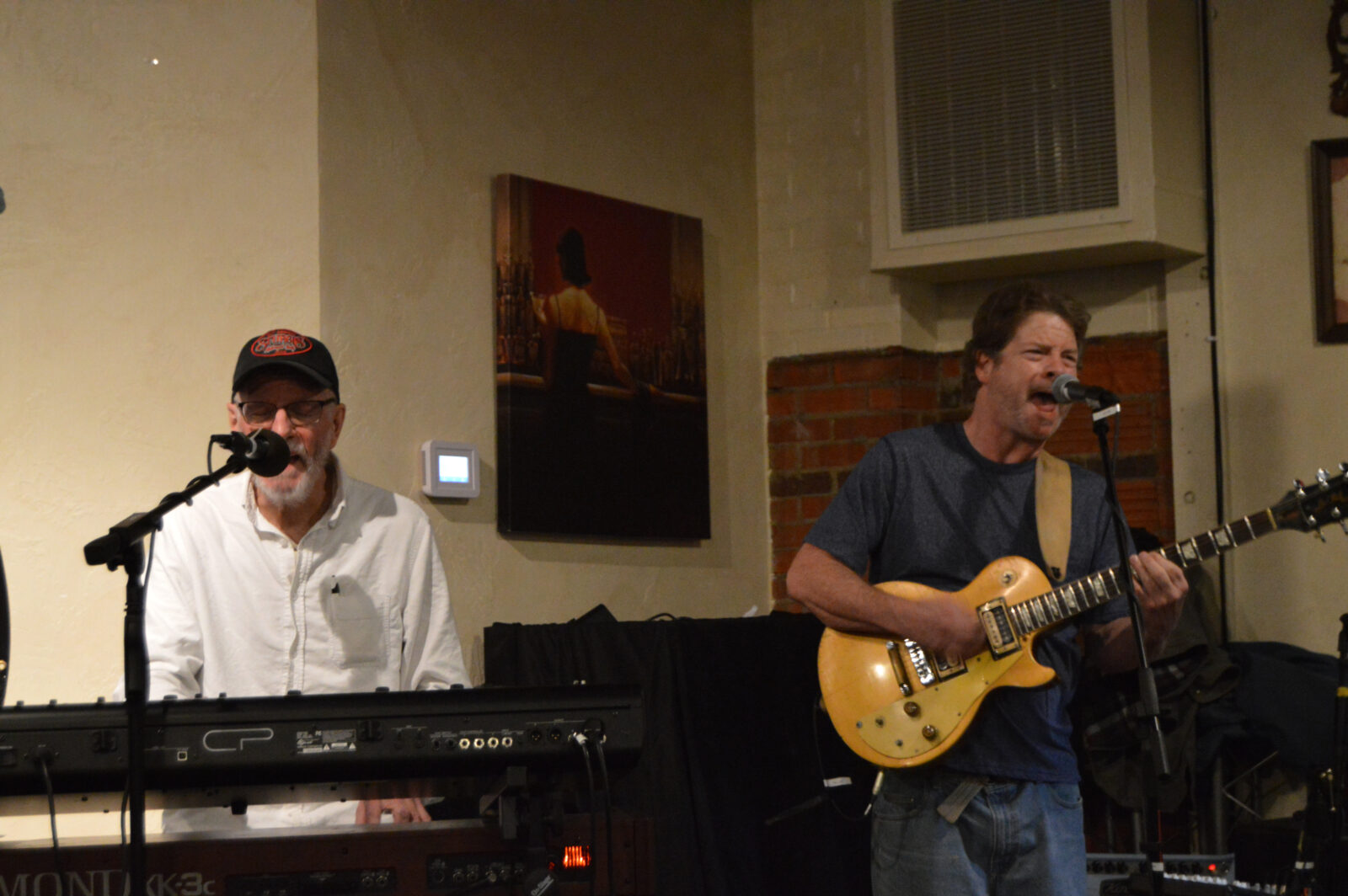 Would you like to share some more words about your previous bands?
James: I played in several rock and blues cover bands over the years. The first was PG-13, then T.H.E.M. (The High Energy Machine), Lone Cow, Innocent Bystander, Blue Flame, and Unfinished Business. In most of those bands, I tried to sneak in a few original songs. Also played bass in a 25 piece college jazz band. Also, a blues band that played lots of original songs. At first we called ourselves "The Bluez Band". Later on we changed the name to "Po' Albert". This new band, Black Hills Soul, is my favorite. I'm loving the creative flow with this band.
Todd: Some of my previous bands were called Montage, Pleeze, and Dislexic Technition. These were all in the Bay Area of northern California.
Scott: My first band was called Picture. I was in a semi touring band called NightLife for a couple of years. The longest stint was with a band called BandX. Drummer Bill was in that band for a while. There were many other short lived garage bands.
What's the story behind the formation of the Black Hills Soul?
James: Todd and I were playing in a blues cover band at the time. It was fun, but was not as fulfilling as I wanted it to be. Todd and I both wanted to do original music. So I decided to just see if Todd wanted to explore music with me as a side project. We would meet up in his garage and play and start writing together. I found out quickly that Todd was a brilliant natural writer. He mentioned that he wanted to make a documentary film that featured all of his songs through the years so that he could pass it down to his daughter and possibly grand kids. When I heard some of the songs he'd written, I wanted to make a real film. Some of the songs he'd written through the years were better than the songs I was listening to. Todd reminded me of so many of the fantastic musicians I met when I was in Los Angeles who had the talent to be big stars, but just never got the break they needed. I thought if we could put together a band of songwriters who fell through the cracks of that era and filmed the process of making new music together, that that might be a film people would enjoy seeing. So Todd and I continued to write and were soon joined by my brother Bill on drums. The main criteria we were looking for were musicians who could write, and I knew Bill had written songs. The final piece to this story came together when my friend Scott Bellew joined us on guitar. Scott and I had played together in the past in a band called Innocent Bystander, and he was at the time performing locally as a solo songwriter. I think he's a brilliant writer and I'm so glad he joined us. Although we filmed a lot of video footage in the making of this first album, we have yet to be able to secure enough grant money to professionally edit and produce the film. But what we became in the process is a real band. We are enjoying collaborating together. We are excited about the release of this first album and can't wait to record and release our second album, which is mostly already written.
Scott: I was doing solo gigs. Shoving my songs down people's throats with an acoustic. James approached me about doing a recording project with Bill and Todd. There was really no thought of playing live until we realized what great songs we had.
Todd: I think James answered this one pretty well.
Bill: James invited me into this band. I had been playing in a country band for like 10 years that was coming to an end. So the timing was good. I am grateful he asked me to join. We needed a guitar player and I think both James and I wanted Scott. Thankfully, he agreed and here we are.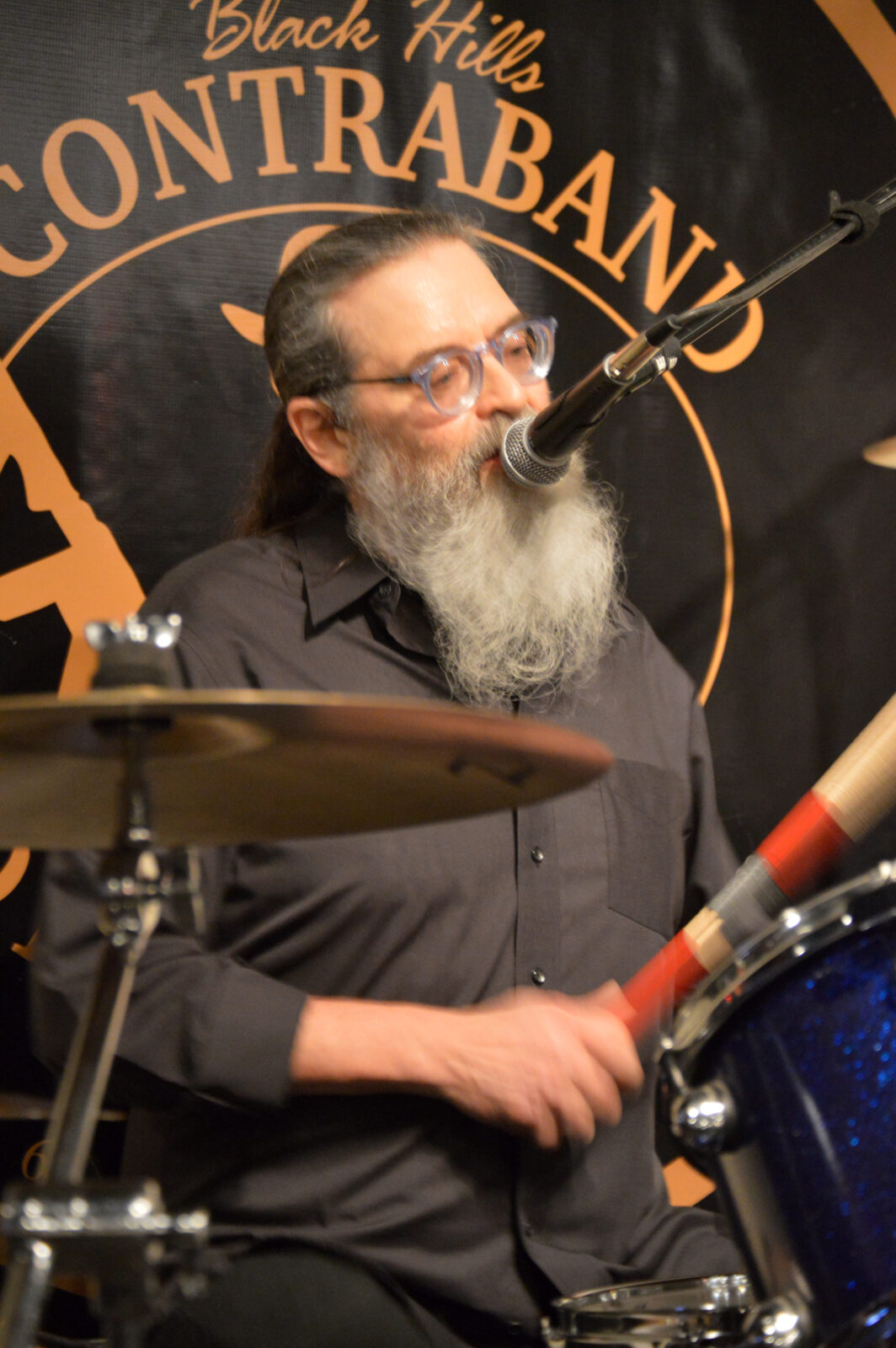 You recently released your first album on CD format, 'Where It All Begins'. What was the creative process for it and can you share some further words about the songs you wrote?
James: It started with just myself and keyboardist Todd sharing song ideas and collaborating. Then Bill joined us on drums and began collaborating with us. Scott joined us as an already accomplished songwriter. Scott not only brought in several songs of his own, but was instrumental in the overall production and arrangements of many of our songs. Now the four of us are collaborating together, and I really am excited about the songs we have written for our second album. If there is a particular song you'd like to know the story behind, let us know. There are stories behind them all.
Scott: Here is the story behind the title track, 'Where It All Begins'. Ah man, I always get in trouble when explaining this one. We live near Deadwood, SD. It is a rustic old gold mining town that has re-stuck gold through gambling. There was this promotional Ad slogan "Deadwood, Where it all Begins"…like this is where the fun starts. There is another side to gambling that is not so glamorous. I know it's said that songwriters write about what they know but I swear to you that this is truly a semi-fictitious song about my wife and Deadwood and gambling and…nuff said.
Bill: When I started playing with James and Todd it was really all about developing ideas. When Scott joined, we spent some time learning some of his songs and finishing up ours. We recorded pretty quickly (for my part anyway) with some songs getting arranged in the studio while recording. We are finally getting out and playing the songs and I feel like our creative process is really still being created.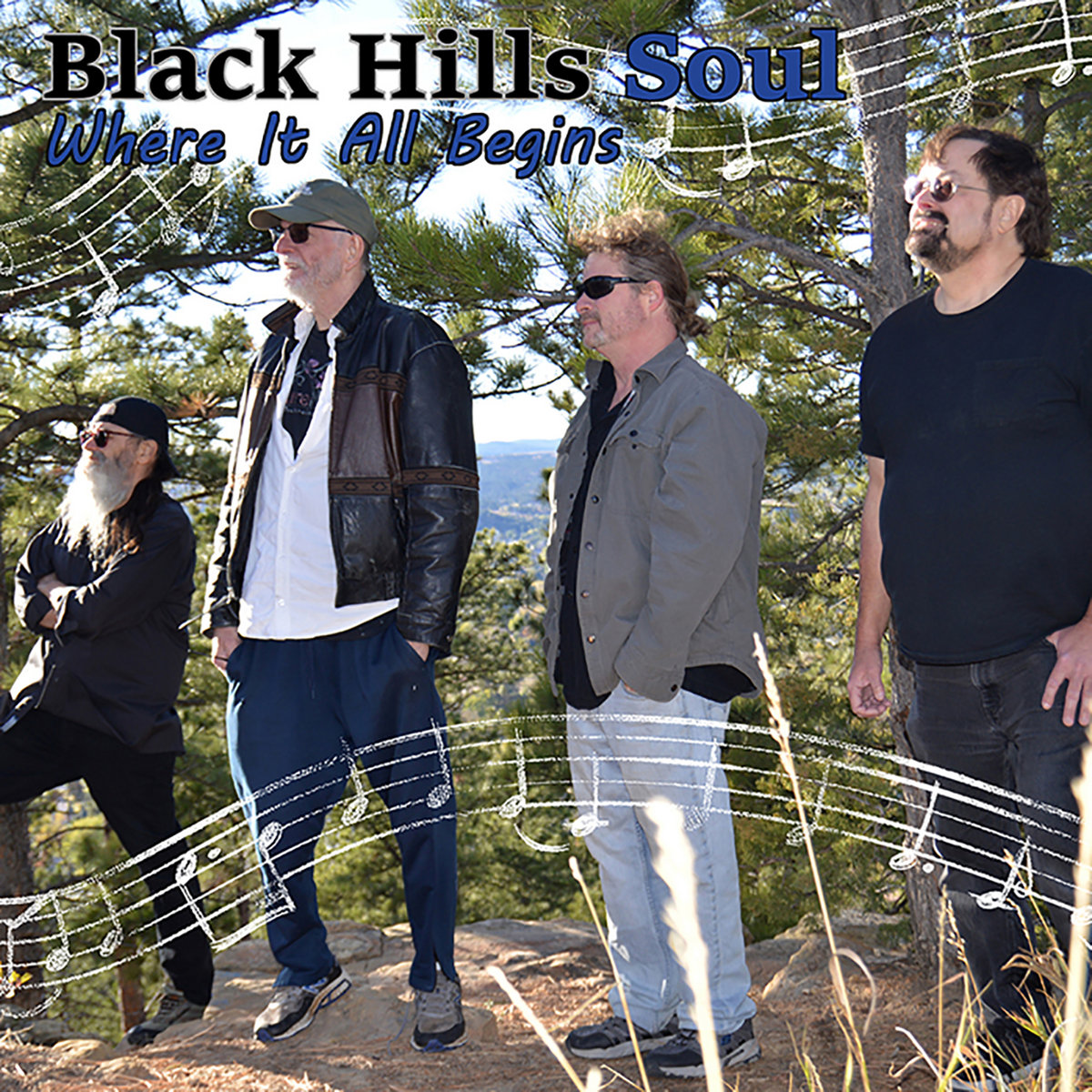 Todd: 'Getting Better' was written in about 10 minutes after coming home from a Las Vegas trip with my brother. When I got back, other family members had sold the house I was living in, and my stuff was moved.
You are influenced by many different bands from the 70s, but I hear a lot of Allman Brothers vibes… Am I right? Who else influenced your playing?
James: You are right! I would also add Steely Dan. I hear a little bit of The Who in the later part of our song 'Hard Times'. A Zeppelin feel in the chorus of 'Bad Luck Don't Bother Me'. Kind of a southern rock and soul feel to many of our songs. I think a lot of bands from that era have influenced us.
Bill: First of all, thank you for saying we have an Allman Brothers vibe. Some of our songs, such as 'All My Ways', I think are uniquely original. I'll tell you also, I was thinking of Deep Purple when we were doing 'Rescue Me'. I also like to think of the Beatles as an influence.
Todd: Yes. I would also add Steely Dan, Doobie Brothers, Little Feat, and Average White Band as influences.
Scott: You are spot on. Sometimes I even feel a bit of Little Feat…ish and get Atlanta Rhythm Section vibes. We all love Steely Dan. We are what we listen to. Loved Eric Clapton, Richie Blackmore, all the Jimi's. I studied guys like Larry Carlton, Robin Ford, Joe Pass, Albert King, I wanted to play it all.
The pandemic really made it impossible to gig. Have you found the isolation creatively challenging or freeing?
James: The pandemic was mostly a frustration for us, I think. Being able to perform occasionally while writing and recording would have helped us financially to get this project done faster. And there were a few times where one or more of us had to quarantine, which delayed the recording and rehearsing process.
Todd: To me it was an opportunity to create because of the isolation.
Scott: More desolate and dismal. We started this project before the plague. I also went through double shoulder surgeries and could not play for months so there were some depressing times. Eventually, we all got our shots, started rehearsing again and finished the album. I feel very blessed to be playing music again. It has been a tough time for musicians. One good note: we have started to do shows and audiences are very appreciative. They all missed it, too.
Bill: We may have been more careful during the pandemic due to our own issues, like Scott's shoulder surgery, James's kidneys, et cetera. It is also harder to book gigs for our original music around here but we're finally getting out there and it's going well.
You're coming from a very beautiful place filled with nature. Is that something that you are transcending into your music?
James: I'm not sure, but I hope that is at least happening at a subconscious level.
Bill: I hope so. I love getting out in the hills for hiking, kayaking, and fishing.
Todd: The Black Hills is a spiritual place.
Scott: This is an oasis that used to be far more hidden than it is now. There is tranquility in "them there hills". The Black Hills have soul. It's home.
Are there any other bands from your town that you would like to mention?
James: If you like blues, The Brandon Sprague Band is one you might want to listen to. Brandon and I played together years ago in a band called Blue Flame. He's done well in this area now leading his own band. My friend Na'Tasha also has a new band called Neon Eyes. They have kind of a psychedelic vibe. I think they have their music up on a website called bandcamp.com.
Scott: No…we are the only band here worth listening to.
Bill: Abbey Someone is a good band from this area who have recently recorded some new songs. I'm not sure if they have been released yet.
Todd: I'll join James in mentioning The Brandon Sprague Band.
Are you working on some new material?
James: Yes! We are currently performing not only the 12 songs on our debut album, but many of the songs that will be on our upcoming second album. I can't wait to record some of these new songs! And we are all continuing to write. I really do believe the best is yet to come for this band.
Bill: Yes!
Todd: Agree with James.
Scott: Yes, we have many new tunes. We are going to record the next album ourselves so that we keep control of the entire process and can dedicate more time rather than adhere to a studio's schedule.
Any hopeful plans for getting back to playing live this year?
James: We have begun to do that! We played our first showcase of our music last October and are in the process of trying to fill our calendar this year. We have 2 showcase gigs this weekend.
Scott: Yes, we have done three shows and are activity booking. For us, this is 'Where It All Begins'. We love playing live.
Todd: Yes!
Bill: Yes!
I was thinking that it would be fantastic to hear your album on vinyl…
James: We were on a limited budget for this first album, so it unfortunately was not something we considered. But if it does well, we may consider a limited release on vinyl at some point.
Bill: Agree with James.
Todd: I think it's a great idea.
Scott: Ha! I really do miss "the thing" about vinyl. Opening the cover. Reading every word and studying the artwork. I still remember Elton John's album cover for 'Captain Fantastic and the Brown Dirt Cowboy'. I was mesmerized. The package of music today is an amazing transformation but you're right, it just doesn't sound as good as vinyl.
When it comes to music making, how do you approach it? Just jamming or did you all bring in your own ideas?
James: In most cases, one of us will bring in a song idea and the band will jam on it and bring it up to its final form and arrangement. In my case, I usually start with a bassline and then I will write words and a melody over the top of that. It varies with each of us, I think.
Scott: We started with our own songs. As we progressed, we started to collaborate more…and there are some jam songs.
Bill: What James said.
Todd: I start with a melody and work out music and lyrics from that.
If you could work with any other artist from the past (dead or alive) who would it be?
James: My goodness, there are too many to mention. Honestly, I think I just like collaborating with the people I know. I very much enjoy collaborating with Todd, Scott, and Bill in this band. I also wouldn't mind collaborating again someday with my old friend Tom Eliff from the Los Angeles blues band The Mighty Mojo Profits. I think he's a really good songwriter. Might have been fun to collaborate with a young Bob Dylan as well. Paul McCartney has such a great sense for melody. Would have been fun to write with him in his prime as well.
Scott: That's a tough one. So many. I wish I could have played with Steely Dan and I always wanted to hang with Sammy Hagar.
Todd: B.B. King.
Bill: I like this question. First of all, I've always wanted to be an Animal from The Muppets, so set me up with Dr Teeth please, haha. Seriously, I just watched the Beatles 'Get Back' documentary and thought of being in Ringo's place. That's the one. I'd also love to be the drummer for Haim. Or maybe sit in with the Black Keys, or The Record Company.
Let's end this interview with some of your favourite albums. Have you found something new lately you would like to recommend to our readers?
James: Too many great albums to mention them all. Here are a few: The Alan Parsons Project – 'Tales of Mystery and Imagination', everything by the Beatles, Jimi Hendrix Experience, Yes – 'Fragile', and Thin Lizzy – 'Jailbreak'. Also, they aren't new, but they are fairly new to me. There is a band from France called Malted Milk. Been watching their past performances on YouTube and loving that band.
Scott: The first Led Zeppelin album. 'Stormbringer' by Deep Purple, Steely Dan albums: 'Aja' and 'The Royal Scam', Cream – 'Disraeli Gears'.
Bill: Deep Purple – 'Fireball' and 'Machine Head', Grand Funk Railroad – 'We're an American Band', Rush – 'All the World's a Stage', The Beatles – 'Abbey Road', The Black Keys – 'Turn Blue', also 'El Camino' and 'Let's Rock', The Mighty Mojo Prophets – 'Jungle Hut' and their first, self titled album, and The Record Company's new one 'Play Loud' is a new favorite.
Todd: There are just too many to mention.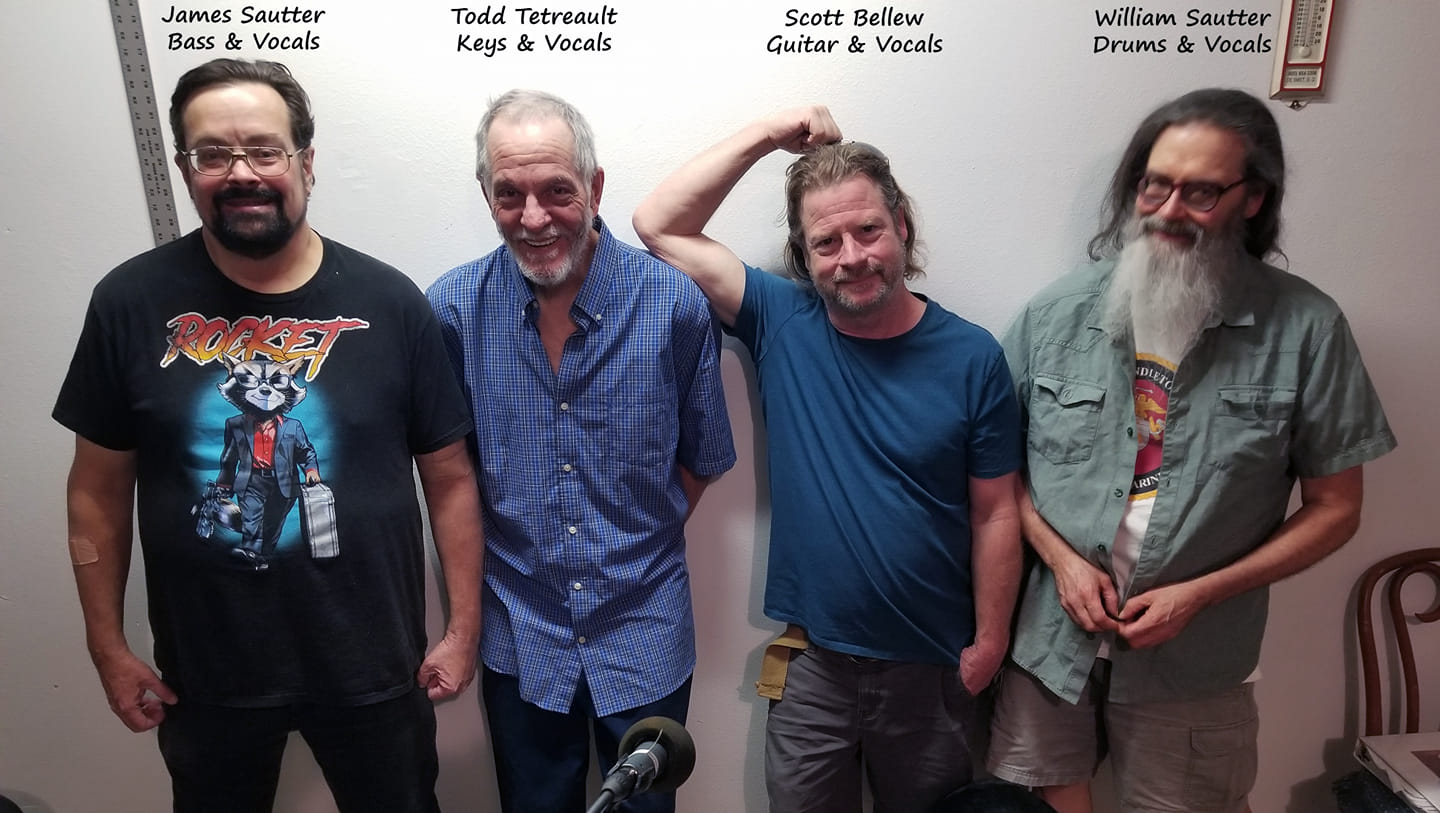 Thank you. Last word is yours.
Scott: Music Beautifies the World.
Todd: I want to thank my brother Rick for being a big influence to me in music when I was young. Thank you, Klemen!
Bill: Thank you, Klemen!
James: Thank you, Klemen! Our debut album is available on all major internet music sales and streaming sites around the world. Your readers can also visit our official website. All the best to you and all of your readers.
Klemen Breznikar
---
Black Hills Soul Official Website / Facebook / Instagram / Twitter / Bandcamp / YouTube