INTERVIEW: Pete Agnew (Nazareth) – The Rockpit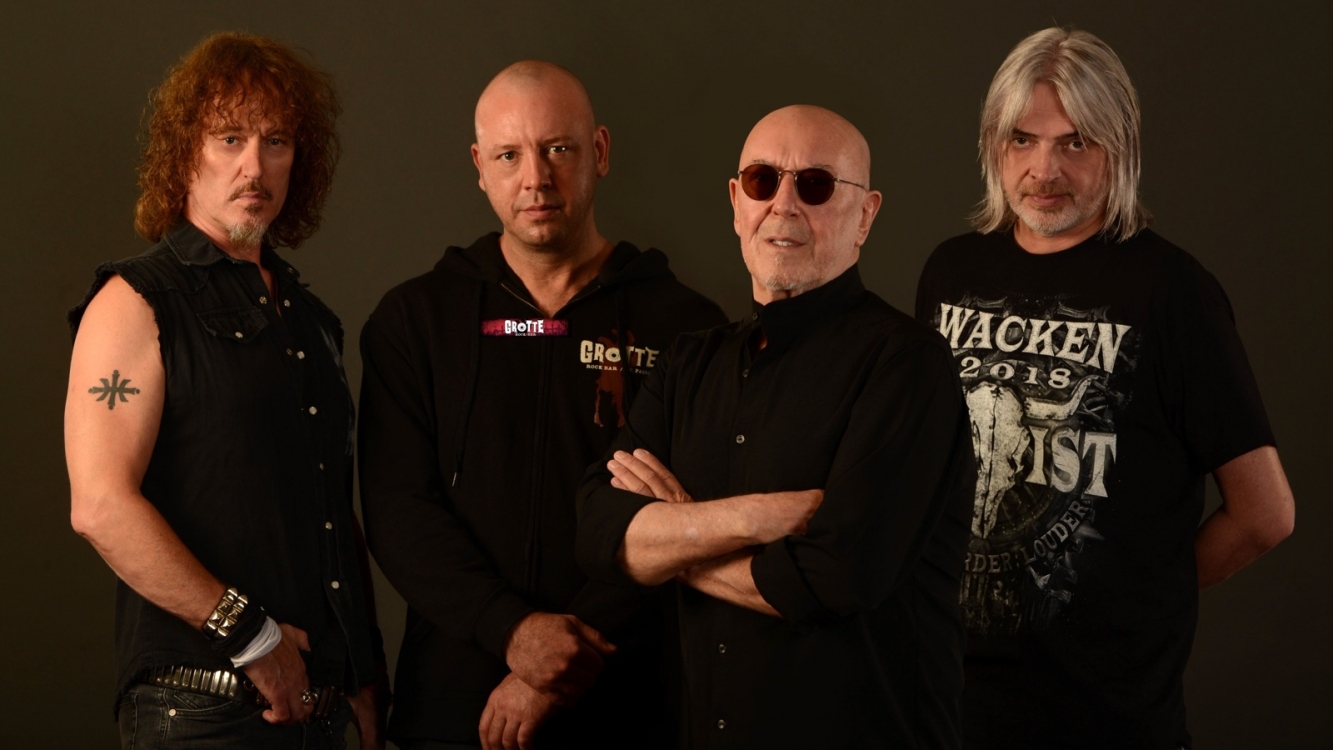 Where do you start with a legendary band like Nazareth? Arguably the finest band Scotland has produced and the inspiration for legions of rockers all over the world. This year they celebrate 52 years as a band with the release of their 25th long-player 'Surviving the Law'. We caught up with founder member Pete Agnew for a trip down memory lane, we talk the art of the 'cover version', the strange new world of music releases and of course all about the latest record and the story behind the title…
Mark: Pete, how are you Sir?
Pete: Is that Mark of The Rockpit?
Mark: It is Pete, hope you're well?
Pete: I am, I'm just on the move at the moment, so I'll talk to you while I'm walking. I have all the interviews up on the wall and they come to me on the phone and I have to touch the screen on Zoom, but it's that small you cant read it you've just got to know where to touch on the phone! So I'm lucky to get you!
Mark: That's technology for you! I'm not sure I could use Zoom on a mobile. I'll stick to the laptop! You've done well!
Pete: And you're talking to the original Neanderthal here! But here we are!
Mark: It's a pleasure for me, talking to a guy who made some of the most memorable music of my childhood and continues to put out great albums to this day! Nazareth was always a band I remember listening to in one of my mate's older brothers record collections. And I've never stopped listening! It's such a shame that Covid robbed you of celebrating that 50th Anniversary.
Pete: Yes, it's 52 years this year since we changed the name of the band to Nazareth. The four guys that were in Nazareth all got together in 1968 under the name The Chevettes – there were six of us in that band, but eventually we became a four-piece of Nazareth in 1970. So it's long enough!
Mark: It's certainly been a while and crazy to think you've just released your 25th album!
Pete: I'm just having a laugh here at the moment, and you're the first person I've spoken to since I heard all of this. I'm 75 and it's obvious that I come from a different era. I remember when there were record shops and people used to buy records (laughs) and silly me! What happens now is, I was just telling the record company. Because our record doesn't get released until the 15th – that's the official date, a Friday, I was seeing reviews of it because they're getting it delivered today or the day before. So I was thinking maybe we should put some of those on Facebook. So I wrote to the record Company and said maybe we should put something on Facebook before we advertise it being released. So they said that's OK there's no need for that to happen because what we're doing tomorrow, which is the day before the release we'll put the whole album on YouTube for people to listen to it! (laughs) So they put the whole album for free on YouTube, and if they fancy buying it, well there you go… So you can listen to it for free or if you're feeling really big you can go buy a copy! (laughs) I couldn't believe it! I was saying to myself "You must be kidding me?" So what we should do now is come out of the studio and get a big box of free albums and drive around throwing them out of the car!  (laughing) I never heard anything so ridiculous in my life! So it goes on YouTube tomorrow – the whole album!
Mark: (laughs) It's crazy isn't it? But if like me you like to support your artists and still like your physical formats I understand it's also coming out on vinyl tomorrow.
Pete: That's right.
Mark: And also on cassette!
Pete: I know! I didn't believe that! At the time when you're doing the booklets – you know for the CDs and that, you have to do a sperate set of artwork when you do the LP and the other formats because its a whole different layout, you know for the gatefold and things like that. And then after we sent that they said can you send us the booklet for the cassettes. I thought "What? This must be a mistake, are you kidding me?" And they said no they were doing a limited amount of cassettes, I thought we were going backwards, you know? Going backwards nicely with the LPs, but the cassettes? We're going to have to get our pencils out again for winding them back! (laughs)
Mark: (laughs) What's old is new again, I guess, never a fan myself of the format.
Pete: I donlt know anyone who buys cassettes but there must be someone buying them if they're making them! Lee (Pete's son who drums for Nazareth) was telling me that he bought a CD player, but even that is Neanderthal these days! He bought a CD player and it had a cassette player in it like they used to be! So somebody's buying them.
Mark: Never a format I got into, though I an see the convenience when you're packing a case or in the car.
Pete: What we used yo do when we were touring and travelling all over the place that was when you had your cassettes, everyone took them with them, and we had loads of teh things. I've still got hundreds of them in boxes, I never play them but I still have all the ones I used to take on the road. And then there were CDs but nobody even wants those anymore they've just got their iPods and stuff. But I donlt listen to music anymore so it doesn't matter to me.  (laughs)
Mark: I'm still into those physical formats, they'll all come back in time, music means more when you can hold it!
Pete: It's funny when you're mixing an album these days you go into the most expensive studios and get the best sounding mix in the world and then what you always used to do is go out into the car park and play it on some old car radio to see what it sounded like because that was how most people heard it. So what they do now in a studio is you mix and album and then somebody plays it back on their phone! Because that's where a lot of people are listening now. But I don't know, everything sounds the same to me on a phone. (laughs) It's bad!
Mark: I know what you mean. It's an interesting title for an album 'Surviving the Law' where did that name come from? I have my suspicions…
Pete: Well just with what's going on really. I don't know if you realise but in actually fact at the moment there's laws being written all the time, hundreds and hundreds of laws every year. And they come out so much and so often that they don't even make it to the statute books before they are the law! So you have to obey these laws but you can't find them in the books which I always thought was weird but it goes on and on all the time. Also what happened is we went through this Brexit thing here, you probably heard of that?
Mark: Yes a ridiculous idea to benefit no one but the very wealthy.
Pete: That's the one. Well to go over to Europe and play a gig now, one of the few gigs that we're allowed to play through this pandemic, with all the pandemic laws and the Brexit rules, you know all the quarantine and all the new forms, and every time we went out the forms would be changed  and just when you thought you knew what you were doing you were told "No that was yesterday, we don't do that now, today this is it" And then by the time you were coming back on the return trip they'd changed that law as well! You had to do something else! (laughs)
Mark: That's doubly crazy!
Pete: I was in touch with Roger Glover of Deep Purple who had just done their album 'Turning to Crime' and I said "I can understand you guys turning to crime because we're all just surviving the law these days." So I thought "Surviving the law" that's a cracking title that! And it actually does tell the story of what it's been like, and it's getting worse actually. Right now we don't know what the laws are any more, certainly not teh Covid laws in Scotland – we don't know what they are and the same with the travel with Brexit – do we do this? Do we do that? Do you need this piece of paper? Do you need that? It's really  quite confusing  – so we are just surviving the law! (laughs)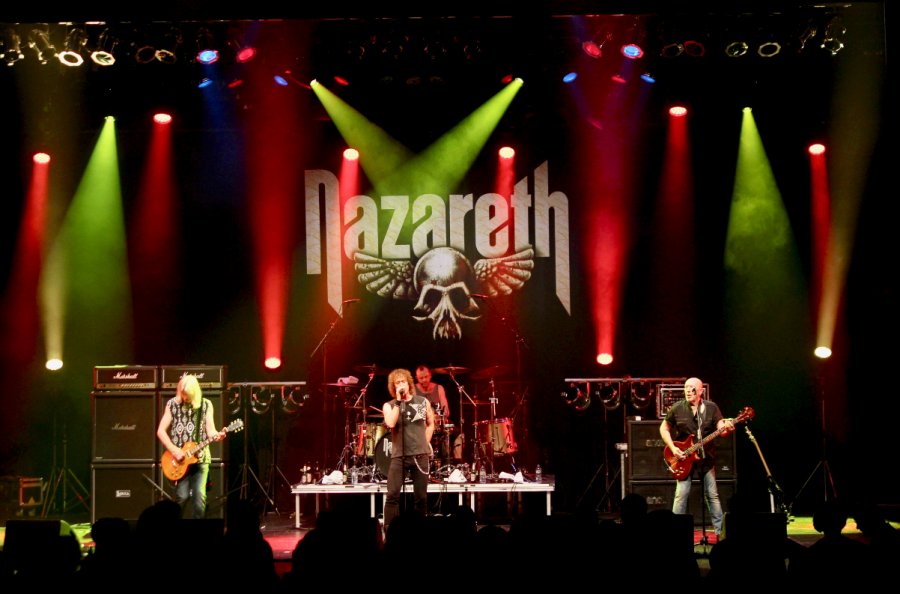 Mark: We don't know what our Covid laws are here in Western Australia from week to week it's a little unnerving.
Pete: Same here, but what can you do? I wore the masks got all my inoculations but I still got it, I still got Covid, it wasn't too bad, in fact I hardly know anybody up here who hasn't had it at some point or another.
Mark: Crazy. Let's step back a little from that now and before we get to the new record if I can cast your mind back to the 'good old days!' One thing that always intrigued me back in the day, and by back in the day I think the first album I heard was 'Razzamatazz'  which has the classics 'Bad Bad Boy' and 'Broken Down Angel' . How did you write in those days because I remember that the band was always credited equally as far as song writing was concerned.
Pete: Well in a lot of cases, I guess most of the cases it was like that. What we would do, and Heavy Rock was really our line at the time, we'd go into rehearsals and we'd jam.  We'd just go in and jam and see what we could come up with, sometimes with backing tracks just to see what riffs we could come up with, and then you'd put a vocal on top of it, and everybody was kind of involved, you know. And that was the case for 'Razzamatazz' and 'Bad Bad Boy' those songs all came from those jams and then bits and pieces being added by different people. But there were also always individual songs you'd written as well, you now, and we always just credited those to everybody. The whole idea was if you keep everybody happy, you don't want to be one of those bands where two guys were making all the money with the song writing and the others are getting bitter. They never lasted, well some did, The Beatles did but even they must have argued! (laughs) There's a way of doing things and we wanted everyone to be down as co-writers, but in the early days most of that stuff was done like that, and the individual songs were just put down as band songs. As the years went by I think we went a little bit more towards guys writing on their own, and these days we've started to put it down as the individual writers because it's not a case of money any more!  As I just said they're putting out our record for free tomorrow!  (laughs)  So you don't have to worry about that too much anymore.
Mark: As a band Nazareth was also the maters of the cover song, I think only Steve Marriott and Humble Pie could match you in that regard. You really had that knack of making the songs you covered your own, finding that bit of magic in the original and bringing it out. One of the classics 'This Flight Tonight' is incredible and when you go back and listen to the original the Nazareth cover takes it to another level. What do you set out to do when you tackle someone else's song?
Pete: Well what we used to say is that if you're going to cover a song there's no point just doing a version and making it sound the same. We'd done that, we'd had enough of that in the 60's when we were playing in the clubs and the ballrooms, you know. In those days basically you were a human jukebox and if you were covering the Top 20 you had to get it right. Anything you covered you had to get it as close as you could to the single because that's what the people wanted. They just stuck a dollar in our mouths and told us to sing! You know! (laughs) And make it sound right! But you don't want to do that when you're going to do your own song on your own album. We used to treat the original as a demo, just look at it as if somebody had come in with a song and work out what you'd do with it. And of course with the Joni Mitchell one 'This Flight Tonight' well obviously that's so much different and of course it had to be because Joni's playing it with one acoustic guitar!  And we've got an army! (laughs) So it was always going to be a different kind of version. And we tried to do that with any of the songs that we did we did 'My White Bicycle' (by Dutch band 'Tomorrow') and even with 'Love Hurts' (A Boudleaux Bryant song made famous by 'The Everly Brothers') it was always a very soft thing. And we made 'Love Hurts' the first Rock ballad ever I think, and to this day I think it's still the best vocal on any Rock ballad, just an incredible vocal that Dan did. So we changed it enough to make it different.
Mark: It's a wonderful song given so much more life.
Pete: I remember, to give you an idea Mark, one time we were up in Morin Heights in Le Studio in Canada, where we made three albums: we did 'Close Enough For Rock and Roll'; 'Play 'N' the Game' and 'Expect No Mercy' there. And I remember one time we thought we would cover a song by The Move called 'Wild Tiger Woman'  it was a great record and we used to pay it in our ballroom days so we thought let's have a go at this. So we went in and we played it and we did it very, very well, it was just like turning the clock back! (laughs) But then when we played it back it just sounded like The Move just with Dan singing. That wasn't any good, there was no point to that. We liked to try and cover people that other people wouldn't expect you to cover. So one time we did have a go at an ABBA song – we thought that would be great, just to be a wee bit different. So we did but we never really finished it, it was S.O.S. – we thought we'd have a go at that. But we got the bare bones of it and thought, we'll go back to that someday!
Mark: Sounds great, ABBA do strangely lend themselves to a hard Rock treatment.
Pete: They came out with the Nazareth 'Black Box Collection' of all kinds of bits and pieces and demos and things and it ended up on there, so that's that spoiled! That will never get done properly now! (laughs)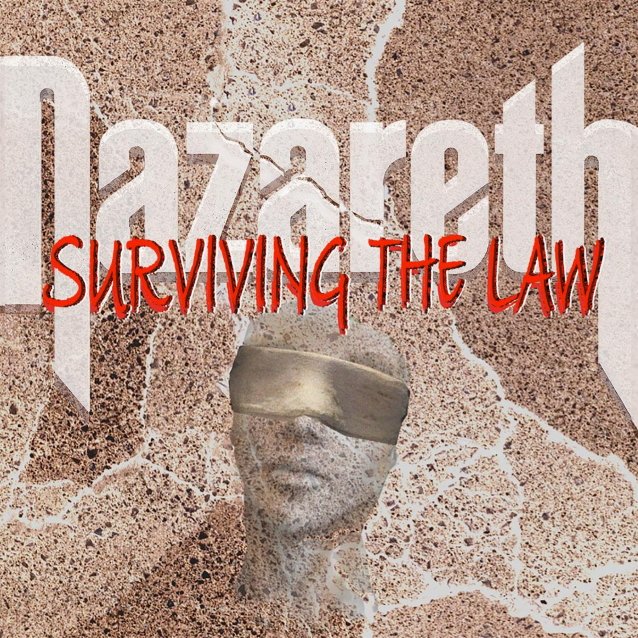 Mark: (laughing)
Pete: But that was the kind of thing we'd try to do. We'd try and make it really different. But going back to Joni when we did 'This Flight Tonight' we were out in L.A. in Hollywood actually at A&M Studios – they were a record company that had studios on the lot where they had offices and we were out visiting the day we were starting a Tour out there and it was on the day that 'This Flight Tonight' was going to be released in the U.K. but not in America at that point. So they said to us, "You know that Joni's in, she's recording in the studio, go say hello." We thought that's not a bad idea, so we went in and we saw her and said "Hi this is Nazareth from Scotland, how you doing? We've just recorded 'This Flight Tonight' and it's going out today." And she went "With a Rock band?" (laughs) So we let her hear it and she loved it, she couldn't quite believe what had been done to her song! But I suppose she had to tell us it was great, she wasn't going to tell us it sucked!  Then a good time later, maybe a year or two later she came to the U.K. and she was opening her tour in the Queen Elizabeth Halls in London and she said "I'd like to start with a Nazareth song!"
Mark: (laughs)
Pete: I thought that was nice. (laughs)
Mark: It was a nice touch. I could talk to you all day Pete! But our time is just slipping away horribly!
Pete: (laughs)
Mark: Let's talk about the new album before you leave us. A few of my favourites on there are 'Runaway'; 'Falling in Love' and 'Sinner' as well, but there's really something on there for everyone. But it's the closer 'You Made Me' that intrigues me – it's a very different type of song – where did that one come from?
Pete: (laughs) That was me you know, it's a bit different I know! I like all the Rock stuff that the guys do, and I like to write a few myself but my own personal taste in music at the moment, is… a wee bit less energetic if you like! (laughs) And when I was writing songs during the pandemic, lots of things come to you when you're travelling or when you're doing other things, well that tends to be when ideas come to me! But during the pandemic I'd just been sat in the house for a year and a half, or in the studio so it was kind of weird.  But during that time alone all the songs became very personal so when we got together to make the album and all the guys brought all of their different songs in. I had a bunch of songs too but I thought these aren't going to fit all that well into what we're doing. So anyway I sort of stood back from the process of choosing, but the guys heard 'You Made Me' I'd done a demo of it and they all liked it and said we had to do that one. And I really like it, I think it's one of my personal favourites of anything I've ever written to tell you the truth. I always wanted to do a Rhythm and Blues/Swing kind of thing like that because that's the kind of thing I like listening to and it worked out wonderful and obviously I got to do the vocal on it. It was really good because what happened is its the 25th album and I did the vocal on my 75th birthday! But it was the only place you could put a song like that, it had to be at the end.
Mark: I was imagining Joe Cocker singing something like that?
Pete: Well Mark, that's the kind of stuff that I do go for I have to say. What happened was when we did the song we were running through all the bits and I said "What it needs is a Hammond" We used to have a great keyboard player Ronnie (Leahy) who played with us for years before he retired. So I said "I'm going to get hold of Ronnie" and so he came in and we did it in one take!
Mark: It's got such an atmosphere.
Pete: (laughs) I always wanted it to sound like it was a bunch of guys just sat around after the bar has closed and they were just playing in the corner, you know, after they'd done their set. I wanted it to sound like that and I think it achieves that. I'm very, very pleased with it.
Mark: Great song, and you're right it could only appear at the end because it is a very rocking album.
Pete: It is quite heavy! We did 'Tattooed on My Brain' (Their previous album) and we've done a lot of albums, some that we've liked better than others, but I thought 'Tattooed on My Brain' was one of the best Nazareth albums ever in our entire career, right up there in amongst the best. We were worried we wouldn't be able to follow it! Because sometimes it can be quite nerve-wracking to follow 'a hit' so when we came in to do this one, obviously we always try to make things sound a bit different, we don't like to put the same thing out as before, we like to change the mood, and the way that one worked out I think again in selecting what we have it's one of the best albums we've ever done. So we definitely followed 'Tattooed on My Brain' but, you know, not with 'Tattooed on My Brain Part 2.' And that's an important thing for us. And so far the reviews I've read have been great even though the album's not out yet! (laughs)
Mark: I think we've just sadly run out of time Pete, the first time we speak to anyone we like to close with a really easy one… What is the meaning of life?
Pete: (laughing) I think Monty Python told us that didn't they? (laughing) I don't know? Do you get answers for this? (laughs) Well I'm 75 and I'm still looking for it! It's still got me flummoxed!  Being in a Rock band I'm not had any time to pay any attention to that!
Mark: That's a great answer in itself! Thank you so much for your time Pete, great to speak to someone out of one of my favourite Rock bands.
Pete: My pleasure Mark! Thank you. Bye.