The Maryla Jonas Story – The Piano Files

The Maryla Jonas Story
by Mark Ainley | September 29, 2017
The release of the complete commercial recordings of Polish pianist Maryla Jonas is true cause for celebration amongst pianophiles. I had long called for an official documented issue of her performances; in fact, a few years ago when I first met the current owner of the wonderful APR label, Mike Spring, in London (I had a long association with the founder, Bryan Crimp), he asked me what I thought the label should plan for future releases, and I immediately said, "THE COMPLETE MARYLA JONAS".
Well, Sony Classical have not only issued her complete recordings, they have done such an exceptional job in producing the set that they have raised the bar for such releases. Whereas back in the day RCA and EMI used to produce wonderful tribute sets devoted to great artists, those are a pale shadow compared to this magnificent production: a beautifully designed cover and box, CDs in paper sleeves that are facsimiles of some of the original LP pressings, and a lavish booklet filled with photos of the pianist, concert programs, LP covers, and documentation regarding Jonas's studio activities, together with a truly elegant and informative essay by my colleague Jed Distler.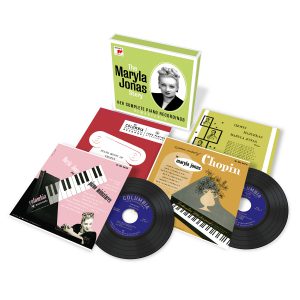 The recordings have been remastered from the source material for the first time. It tends to be the case that larger labels tend to aim for more of an LP-like sound signature with recordings made on 78rpm records – one will rarely hear the kind of booming presence on mainstream reissues of such historical discs – and while that is the case here, the frequency range is to my ears full and warm, even if some of the dimensionality is less than one might get on the 78s. One can hear the fine details of Jonas's playing – the masterfully crafted phrasing, deft articulation, subtle pedalling, and magnificent tonal colours – and fully appreciate the exquisite beauty of both her playing and the works she plays.
As for the performances themselves, there is little that I can say that hasn't been said about this magnificent artist. Her Chopin Mazurkas in particular have been praised to the skies and yet such accolades still pale in comparison to the actual playing. Jonas herself said that it was the suffering in her life that brought her playing to life (she lost most of her family during the war and consequently had several breakdowns) and indeed the remarkable emotional depth of her playing in works that lesser pianists might despatch in a trite manner is utterly staggering: sumptuous phrasing, impeccable timing, gorgeous tonal colours, and marvellous voicing reveal the full range of character in these works, from the quaint and charming to the uplifting and joyful to the more anguished, sombre, heartfelt, and mournful. One can learn more about piano playing and interpretation in a single mazurka reading by Jonas than one can in many readings of longer, more 'profound' works by some other more famous pianists.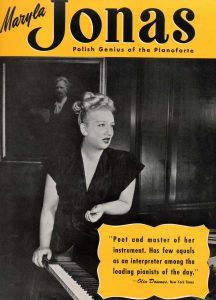 There were during Jonas's lifetime comments about the limited range of her repertoire but her craftsmanship and musicality are so profound that I am content to hear whatever it is that she recorded. The fourth disc of the set featuring works by varied composers is utterly magnificent, featuring – among others – a charming Rondo alla Turca, a solemn Schubert-Liszt Ständchen, two probing Mendelssohn Songs without Words, and a varied and emotive Kinderszenen. One of my favourites is a two-minute marvel, a work by a scarcely documented composer Nicholas (no first name) entitled Musical Box: Jonas's incredible tonal palette, refined pedalling, and brilliantly conceived timing truly create the effect of a wind-up musical box, the effect she achieves at the end of the work being particularly breathtaking.
If what I have communicated thus far isn't grounds enough to warrant purchasing this set immediately, I don't know what else to say other than to leave you with the playing of Jonas herself – you can hear the entire playlist on YouTube (click here) but the original discs are something I will prize for the rest of my days. Bravo to Sony for having had not only the vision to issue Jonas's recordings but for having paid tribute to this supreme artist with the thoroughness and elegance that her artistry warrants.