LOST TREASURES – Dirty Angels

[linebreak style="25.png"]
On November 19th, 1978, I dragged a carload of my friends to the UCLA quad to see the Talking Heads play a free afternoon concert (I even purchased an "I Survived the Talking Heads at UCLA 11-17-78" T-shirt that became one of my best conversation starters for the next ten years or so―when it finally became what can only be generously called a rag). As much as I loved the Heads show, I was also immediately drawn to the opening act, Dirty Angels, a band from Connecticut who were breaking out of the Boston club scene. Not more than a couple weeks later, I came across a promo copy of their major label debut in the bargain bin at my local used record store. A self-titled set of garage rock and power pop, it remained in steady rotation in my dorm rooms over the next three years and to this day is a favorite obscurity.
The front man for Dirty Angels was Charlie Karp. His professional career began with playing guitar for Buddy Miles when he was 16, and he recorded four albums with Miles in the late '60s and early '70s. He then formed White Chocolate with fellow Buddy Miles alum David Hull, releasing an album on RCA in 1973. In 1975, they recorded a single, "Rock 'n' Roll Love Letter" (written by Tim Moore) that would later be covered by the Bay City Rollers. In 1975, the band changed their name to Dirty Angels and at this point, the line-up included Karp on lead guitar, Hull on bass, George Maher on rhythm guitar and his brother Jimmy Maher on drums. They released their first album, Kiss Tomorrow Goodbye, on Portrait Records in 1977. The record was a local success and led to the band being signed by A&M. In 1978, the band headed into the studio to record their major label, self-titled debut, which would be released later in the year.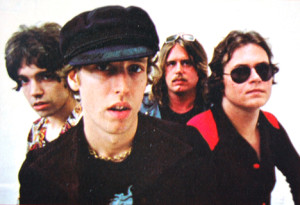 Side one opens with "Call My Name," a strong power pop number that recalls the classic Cheap Trick mix of Beatley chords and heavy guitar. "Buzz Buzz" is a bluesy boogie based upon a catchy riff and some solid harmonica wailing. It also features lead guitar and bass trading fours in the solo as an unusual touch. "Friends for the Sake of Convenience" is an acoustic ballad built around a descending arpeggio pattern. It's got a great build and is one of the most memorable tracks on the album. "Tell Me" is a perfect three-minute pop song and is actually the same recording of the song from the first album, with just a little sweetening and a new mix. "Fantasy" recalls Smokey Robinson and the Miracles, with answering backing harmonies and a slow burning groove. "Lonely Heart" opens the second side and is another midtempo pop song, leaning a bit to blues-rock but still infused with some pretty chord changes and backing vocals. "Growing Up Wrong" is a rocking blues that approximates a teenage garage band version of Aerosmith. "Honey Honey" closes the album right where it began, crunchy power pop chords, rich harmony backing vocals and a punishing back beat.
"Tell Me" b/w "Fantasy" was released as a single, but failed to chart. Dirty Angels would not record another album or single, though they did open for Aerosmith in 1979 on the Double Live Bootleg tour before breaking up in 1981. In the '80s Charlie Karp would form the Namedroppers and release a self-titled album on Grudge Records. And over thirty years after breaking up, the band performed two reunion concerts in their hometown of Bridgeport, Connecticut.
Dirty Angels has never been reissued on CD and is not available in the mainstream digital domain. I doubt it will ever be available in either format. That said, the vinyl can be obtained fairly easily (as I write this, there are nine copies on eBay, averaging about $10). I have also seen it posted on various file-sharing and torrent sites. Fans of late '70s power pop and the Boston scene will not want to miss this one!
[linebreak style="25.png"]
==============
Pop Pioneer and "Lost Treasures" writer, Peter Marston is the leader of long-running power pop band, Shplang, whose most recent album, "My Big Three Wheeler" has been described as "the Beatles meet Zappa in pop-psych Sumo match."  Peter has a new project in 2015 under the name MARSTON.   They will have a track on the upcoming "Power Pop Planet – Volume 5" compilation shipping end of December, 2015.
You check it out at this link:  http://www.cdbaby.com/cd/shplang
================
[linebreak style="25.png"]
Blog Post:  http://www.fairfield-sun.com/5369/dirty-angels-reunite-after-nearly-35-years/
Biography:  http://www.charliekarp.com/biography
Blog Post:  http://lostinthegrooves.blogspot.com/2005/12/dirty-angels-sealed-with-bosstown-kiss.html
"The Lost Dirty Angels Album"  – http://charliekarp.com/album/36021/the-lost-dirty-angels
https://www.amazon.com/gp/product/B001IB8EXA?ie=UTF8&*Version*=1&*entries*=0
"Kiss Tomorrow Goodbye" album:
http://charliekarp.com/downloads
https://www.amazon.com/gp/product/B001IAUEZW?ie=UTF8&*Version*=1&*entries*=0
"Side 2 of the 1977 album" (from 1977 album)
https://www.youtube.com/watch?v=q7mlotu2D40
"TELL ME"  (from 1977 album)
"KISS TOMORROW GOODBYE"