Les Baroques "Les Baroques" 1966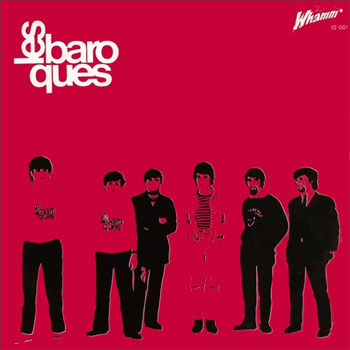 No, not the great Midwestern psych band, these Baroques were based in Holland and had roots extending as far back as the late 50's. Les Baroques were part of a fertile Netherlands beat scene though their sound was occasionally strange and unconventional for a bluesy garage beat group. Some of their songs were dressed up with harpsichords, bassoons and string arrangements though it was original lead singer Gary O'Shannon's (Gerard Schoenaker is his real name) tortured vocals and unique personality that set the group apart from the competition.
O'Shannon reminds me of an early Van Morrison on speed whose vocals are carelessly sloppy but somehow compelling and original. Their first single, Silky, was released back in 1965 and was a good, dreamy European folk-rock number that was unusual but still deserved a better fate. The bizarre top 40 followup, Such A Cad, was arguably better and is a strange punky original with bassoon fills and a great O'Shannon vocal performance. Such A Cad's flip, the western sounding Summerbeach, was just as good and highlighted by fine harmonica playing and an otherworldly atmosphere. Their third single, I Know, was another dutch hit and while still a respectable effort, it was somewhat of a letdown when compared with the previous two 45's. But I Know's flip, the punk rock ballad She's Mine, was one of their great songs and had O'Shannon in top form, giving a stunning vocal performance with attitude and passion.
The group fired back with another strong garage punk single (I'll Send You To The Moon) that had lots of strange tempo shifts and the above debut album in 1966. After the completion of the lp, O'Shannon would leave the group for military service. This effectively ended Les Baroques classic period though the lp is strong and full of great, forgotten rockers like the mysterious I Was Wrong and the Animals influenced classic, O-O, Baby, Give Me That Show. Special mention should go to I Was Wrong as it's a killer psych punk track with great raga influenced guitar work and angry, neurotic vocals. There are also two good Booker-T-like instrumentals that have nice organ playing and really show off the band's instrumental chops. For most bands two instrumentals would be the kiss of death but Les Baroques were a cut above the pack instrumentally and both these tracks standout as highlights. Another great track is Troubles, a good sublime rocker that features some of O'Shannon's best tortured vocals over a dreamy backdrop.
O'Shannon's departure pushed the band to enlist a new frontman, Michel van Dijk. The new lineup released a handful of singles and the disappointing 67 lp Barbarians With Love. Only the storming fuzz rocker Working On A Tsjing-Tsjang (late 1966) single could measure up to the O'Shannon years. In 2002 Hunte Music released an impossible to find 2 cd set including all the singles and both lps. Definitely worth searching for.
"I Was Wrong"

Original Vinyl | Whamm | 1966 | search ebay ]