Cloudberry Cake Proselytism » Blog Archive » :: Harriet Records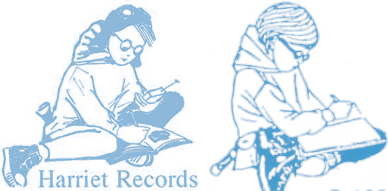 Thanks so much to Tim Alborn for the interview! Harriet Records was definitely one of the best and most influential indiepop labels in the US during the late 80s and the 90s. The label based in the Boston Area, while Tim was at Harvard, is remembered with nostalgia by many indiepop fans thanks to all the bands they released, from The Magnetic Fields to My Favorite and more. Fifty 7″ singles and ten albums are the legacy of this great label, all highly collectable now. Time to talk then about that time, and get to know the story behind the beloved American label!
++ Hi Tim!! Thanks so much for the interview! How are you? What are you up to these days? Still involved with indiepop in a way or another?
I stopped running Harriet in 1998 when I got a job in New York, teaching at Lehman College (which is part of the City University of New York), in the Bronx; before that I had taught at Harvard from 1991-98. At the time I thought I would keep on doing my fanzine, Incite!, but that fell by the wayside as well. Since I've been in New York I've kept a pretty low profile in terms of indie-pop. For a couple of years (2012-13) I did an indie-pop-related blog through Lehman, some of which was reposted on the Ply blog, but in each case most of the posts have disappeared. That blog was pretty representative of my means of discovering/getting excited about music since 2000. My wife likes to travel so we often end up in places like Iceland, Portugal, or the Czech Republic and I use the opportunity to figure out what's going on music-wise. So I did posts on the Denmark scene, the Czech scene (especially the amazing label Indies Scope: see Dva and Tara Fuki), and the Iceland scene (my favorite Icelandic band is FM Belfast). Less directly connected to indie-pop, I started teaching a course at Lehman a few years ago on the history of pop music in the US and UK, which has been a wonderful experience. I'm considering co-writing a book on that with a friend of mine who has a book coming out on the Hamburg rock scene in the 1960s. Last year I posted much of the Harriet catalogue (not including stuff that had been posted by other people) on my YouTube channel.
++ So let's start from the beginning. The label was based in the Boston area, but are you originally from that area as well? And what sort of music did you grew up listening too as a kid at home?
I'm originally from Astoria, Oregon, where the Columbia River meets the Pacific Ocean. That's not incidental, since my best friend in high school was Rob Christie, who was an original member of Some Velvet Sidewalk (off-kilter indie-pop, K Records mainstay in the 1990s). He sadly died in a car accident 15 years ago; he also taught me everything I knew through 1982 about punk rock, so when I went to Harvard that year I wanted to learn more. Before I met Rob I was a total AOR-head; we received two FM radio stations in Astoria from Seattle, KZOK and KISW, which played the usual Zeppelin-Pink Floyd shite but occasionally, also, Lou Reed or The Cars or Elvis Costello. Then Rob taught me about the Ramones and X and the Dead Kennedys. At Harvard, I became a DJ at WHRB, still a pretty amazing radio station, where the rock department had just transitioned from new-wave to punk, which suited me to a tee in 1983. My radio show in the early years used "Fight the System" by the Indiana hardcore band The Delinquents as its theme song.
++ And when would you say you got into indiepop and how?
Somewhere between 1984 and 1986. I spent the summer of 1985 in England, and although I mainly bought/listened to punk (the complete No Future catalogue, and I did a 6-hour show on that at WHRB, I also picked up singles by The Woodentops and That Petrol Emotion and saw The TV Personalities in East London. That summer also inspired me to start my fanzine, which by 1987 (the "Special Pastel Issue," hand-colored with pastel crayons) was edging into indie-pop. By the spring of 1987 I had collected enough British indie-pop singles to do a show called "Pop's Not Dead!" with The Wedding Present, Pop Will Eat Itself, Pastels—basically the C86 crew. I did a follow-up show in spring 1988 (creatively called "Pop's Still Not Dead!"), which incorporated the two Bristol-based labels I had fallen in love with in the intervening year, Sarah and Subway Organization. That summer I went to England for two weeks (I was still a poor graduate student —I had to sell some records to be able to afford the flight) and I interviewed Matt and Clare from Sarah and Martin from Subway.
++ Do you play any instruments? Were you ever in a band? Or was it always your thing supporting the musicians, doing the label?
I played the oboe in high school, but that's pretty much it. I've always been a firm believer in the division of labor, and I knew my strong suits were my writing (prose-only) and my ability to make things happen. And, basically, I've always been enchanted by the wonder of a great pop song, and I never wanted to tarnish that sense of wonder by figuring out how to make one myself. I remember the first and only time I saw Nikki Sudden perform and the next day telling a friend of mine about the resulting goose bumps I felt, and he was a little astounded that this was even possible. I've done my best to retain that capacity, which I tried to express with the label and the fanzine through the 1990s. My friend Stephanie Burt, now a poetry professor at Harvard, did a better job than I ever could to articulate this in a blog post on Incite! for the London Review of Books a few years ago: https://www.lrb.co.uk/blog/2012/05/11/stephen-burt/incite/.
++ It is said that Harriet Records was the best label ever founded on the grounds of Harvard University. I wonder, are you aware of any other labels founded there?
Good question: I'm sure there have been others, but nothing I can think of, certainly not while I was there. Discogs tells me there was a "Harvard Records" in 1959 that put out three singles. While I was there the only decent Harvard indie-pop band were the Push Kings. I read the drummer's senior thesis: his name was David Benjamin and it was this amazing thing on right-wing conspiracy theories (still very timely 20 years later). He's a cutting-edge architect now.
++ And what were you doing at Harvard at the time?
When I started Incite! I was a junior and when I started Harriet I was a year and a half away from finishing my doctoral dissertation in the history of science department. After getting that in spring 1991 I got a job teaching history and social theory at Harvard through 1998.
++ Why the name Harriet Records?
In 1988-89 I was sharing an apartment in Cambridge with Rob Owen, a Harvard Law student who had previously been my roommate in Belmont. At some point I found a copy of "Harriet the Spy" by Louise Fitzhugh on his bookshelf and I loved everything about it. I had already been inspired by Sarah Records (see below), and I was getting generally hot under collar about the hyper-masculinity of indie rock (Albini, Byron Coley, Pussy Galore, ad nauseum), and generally inspired by the backlash propelled by Sarah and K, so the idea of calling a record label after a girl made a lot of sense to me. I wrote about that book and "The Borrowers" by Mary Norton, which was a favorite growing up, in Incite! in fall 1988 that expressed most of this. Or at least I assume this is how it went—it's one of those things where I invented such a compelling mythology about the label over the course of the 1990s that I actually don't remember my exact through processes at the time. The first bit about when I first encountered "Harriet the Spy" is true, anyway.
++ What would you say inspired to create Harriet Records? Were there any labels that influenced your aesthetics perhaps?
The biggest inspiration was Sarah Records, although my early releases were a pretty far cry from theirs in terms of their sound. Another inspiration was K Records, which was of course Beat Happening but also a set of compilation tapes (Let's Together, Let's Sea, Let's Kiss). Having done a fanzine for four years, as well as being on the receiving end of indie records at the radio station, made the idea of starting a label seem much more possible. And Boston, in general, had such a vibrant music scene at the time that being part of it in any way I could seemed a necessity.
++ You started the label in 1989. But was wondering if before that year, had you been involved with any other releases or musicians? Or was the first release on Harriet your first experience doing the label thing?
In the fall of 1988 I decided to put out a compilation tape, "Harmony In Your Head," with two local bands (Ed's Redeeming Qualities, High Risk Group), my friend Rob's band (Some Velvet Sidewalk), Linda Smith (whose cassettes K had distributed), and X-Tal, who my now-wife put me in touch with through a friend of a friend. The first band I asked to be on it was High Risk Group, who I had seen play in Boston earlier that year. The others fell into place; X-Tal was a last-minute replacement after Galaxie 500 (who I knew through WHRB) backed out. This cassette was a very slip-shod operation: only 250 copies and really poor sound quality. But it was enough to keep me moving quixotically forward.
++ Where did you run the label? In your bedroom? Did you have perhaps a stock room? Where did you press your records? What was the infrastructure of Harriet Records?
Not quite my bedroom: by 1991 my wife and I had an apartment with enough space for me to have a separate closet to store the records and an office/study where I could keep track of everything Harriet- and Harvard-related. But the basic set-up was that a few weeks before each record was released a UPS truck would pull up outside my apartment building and I'd lug ten boxes of singles up to the third floor, then assemble them by hand into sleeves (mostly printed at Typotech in Harvard Square) and plastic bags (ordered through Bags Unlimited). I pressed all my vinyl at Rainbow Records in Santa Barbara, which also mastered them until I switched to John Golden in the early 1990s. Mostly it was just me. Chris Bavitz, who is now a law professor at Harvard and at the time was a Tufts undergraduate, helped me for a year or so (he had been a Harriet fan as a college radio DJ), Jason Shure (a WHRB friend) helped in the summer of 1990, and Tom Devlin, who was in Prickly, helped in the summer of 1998 when I was navigating my move to New York. For the most part Harriet didn't interfere too blatantly with the rest of my life, although the month leading up to my wedding in 1990, when I was also furiously assembling the Fertile Virgin and Linda Smith singles before spending a summer in England, did generate some premarital tension.
++ That first release was the "Flag" 7″ by the High Risk Group. The sound of course is not strictly indiepop. So I ask, was the label intended to be an indiepop label at the start?
Definitely not intended to be indiepop from the start, although my listening tastes had already been moving in that direction. In that sense K was a bigger inspiration than Sarah: I loved the way they signed bands ranging from Mecca Normal to Courtney Love. Sarah was more important in my insistence on releasing only 7-inch records, which I stuck to for the first four years. Although I was never dogmatic about it, the one consistent aim at first was to provide opportunities for bands where women and/or LGBT people had a major role (not just as a drummer or bass player). 1989 was a good five years before riot grrl and the opportunity gap was pretty tangible, especially in the northeast US. Out of the first twelve bands on the label, nine fit pretty squarely in one of those categories. Many of the early local bands on Harriet, including High Risk Group and Pop Smear, were active in Rock Against Sexism.
++ How did you find most of the bands on the label?
Most of the local bands on Harriet were people I saw perform in clubs and got to know that way: the best clubs at the time were the Middle East, TT the Bears, and the Green Street Grill, which were all within a block of each other in Cambridge, MA. This applies to High Risk Group, Fertile Virgin, Pop Smear, The Lotus Eaters, and The Musical Chairs. Most of the out-of-town bands I got to know through my fanzine, either because they also did a fanzine before starting a band (Wimp Factor XIV) or because they sent me a tape or a single to review (Crayon, Scarlet Drops, Bagpipe Operation, My Favorite, Tokidoki, Hula Boy, Receptionists). By 1993 or so quite a few bands were sending me demo tapes, especially from the Boston area. Very few of these appealed to me enough to lead to anything, but a few did: Prickly, The Ampersands, Caramel, My Pretty Finger. Linda Smith continued to work with me after I had recruited her for "Harmony In Your Head," and told me about her friend Nancy Andrews (Pinky). Mecca Normal, The Cannanes, and Franklin Bruno from the Extra Glenns I had known for a long time before putting out one-off singles with them. Along with many of the other out-of-town bands on my label, they often slept on my couch after playing a show in Boston.
++ Most of your releases were 7″s, but there were a few CDs. I wonder, why not 12″ LPs for these albums?
The 1990s were not kind to LPs in the US: they were expensive to produce and hard to get distributors to buy. And I didn't have much closet space. Tullycraft and Wimp Factor XIV both put out LP versions of CDs that I had released on the Little Teddy label in Munich, so I sold some of those in the US. But basically there wasn't much demand for LPs, either from the bands I was working with or from my distributors.
++ Would love to ask about every single release on your label, but I know that might be too much, so I'll just choose wisely. Let me start with My Favorite which is a band I know, met, seen, even released. You released "The Informers and Us" in 1995 which is a fantastic record. Wondering how did you meet? how close-knit was the scene from Boston to the one in New York? Did you travel south much?
My Favorite was one of the bands I met after reviewing an earlier record in my fanzine. The record in question was "Absolute Beginners" on the Bay-Area Swingset label, which I reviewed in fall 1994. I took My Favorite's side against a review Mike Applestein had written about them in his zine "Caught in Flux," where he worried that they were starting a dangerous trend by reviving 80s new wave. I wrote: "It's good to hear someone sing like Penelope Houston instead of Amelia Fletcher for a change, and if that's a change for the worse I'm willing to risk it." Although Mike was probably right to worry in the long run, I'll still stand by the My Favorite aesthetic. In any case, Michael Grace from My Favorite was happy to have me as an ally (it turned out he had been a major Harriet the Spy fan growing up), and I booked them to play for a big 5-year Harriet bash at the Middle East in January 1995. "The Informers" followed a few months later, and I branched out from there to put out songs by their Stony Brook friends, The Mad Planets and Shy Camp.
In terms of New York, I hardly every traveled there during the 90s – maybe once every two or three years—and I never put anything out by a band from NYC, only Stony Brook (and I never visited Stony Brook until after I had moved to NY in 1999). To this day I have mixed feelings about the NYC music scene, and at the time I would have defended the Boston scene over pretty much every other scene in the US, but especially NYC. Regarding My Favorite and Long Island, the irony is that two years after I moved to New York my wife got a job teaching at Stony Brook, so we now live there and all the bands on my label who had gone to college there have moved away. It was fun hanging out with Michael and Andrea in the early 2000s when they were still together and living on Long Island, though. I think we saw them play in a Battle of the Bands at Stony Brook in 2001 or so, which was pretty awesome—but not quite as awesome as visiting the house in Babylon that once belonged to Dee Snyder of Twisted Sister, which had been bought by one of my wife's colleagues.
++ I guess many people would be interested in your 7th 7″, the one by The Magnetic Fields with "100, 00 Fireflies". How did this release come to be? Any fun anecdotes you could share perhaps?
Claudia Gonson, their drummer/manager, was a roommate of a good friend of mine from college, and when they were looking to release a couple of songs in the US from their first CD (which had been released on Red Flame in the UK in 1991) they called me. I can claim credit for picking out "100,000 Fireflies" from the CD as the song I wanted for the A-side. I've always been better friends with Claudia, who I'm still in touch with, than with Stephin, though I did see him at parties now and then when we lived in Boston. One of the things I've always loved about his lyrics is his wordplay ("Your heart is Kansas City/ In Kansas and in misery" from the second single I did with them) and this would sometime come out in conversation: once when I asked him if he could give me a song for a compilation, he said: "It hinges… on syringes," which of course it didn't. After the first single came out he asked me, in all seriousness, outside Johnny D's in Allston, why I liked "100,000 Fireflies", and in the course of telling him I pointed out that it was actually three songs stitched together, not one. He really seemed to appreciate that I had figured that out.
++ Definitely your involvement with the Six Cents and Natalie/Crayon/Tullycraft troupe is another interesting one. They come from the other coast of the United States. That's quite far! Aside from the singles, you released the first album for both bands. I just read that Tullycraft are preparing one new album these days. They all must be the ones that appear most on your label, am I right? How did you sign them to Harriet? And was it difficult to let them go to another label afterwards?
As I mentioned above, I grew up in the Pacific Northwest and I still visit family out there nearly every year, so that partly explains it. I already knew about Crayon through their fanzine "Thrill!" and in 1991 they sent me their "Cartwheel for a Kiss" cassette. Although I assume I would have caught up with it at some point, they actually intended to send it to Mark Lo at the "File 13" fanzine but it ended up in my envelope by mistake. Anyway, I asked if they'd be interested in putting out a single and the rest was history. I think the fact that I often visited the northwest did help; I remember a great stopover in Bellingham, I think in 1993, where they played in someone's garage with this amazing proto-riot grrl band Hussy, and they covered a Misfits song in the encore. Crayon and Tullycraft also toured more than most of the other Harriet bands put together, so I got to see them a lot in Boston too. Like a lot of bands on my label, I kept putting music out as they changed parts. Tullycraft was sort of like a Harriet supergroup, since Gary from Wimp Factor XIV, who had moved to Seattle from Pittsburgh, played guitar for them.
I was never very possessive about bands on Harriet, and when Tullycraft decided to switch to Darla in 1998 that was fine by me; I was heading toward winding up the label by then in any case. And I think every single Six Cents and Natalie single appeared on a different record label, which was par for the course in those days. Both the Crayon CD and especially the Tullycraft CD sold very well. A lot of the proceeds went directly to the bands, since I gave them as many copies as they could sell on their tours, but what I sold to distributors made it possible for me to absorb losses on the many singles I put out that didn't break even. Yes, Tullycraft is still at it—I'm still in touch with Sean (off and on) and I also consulted on the reissued Crayon LP, which came out in a wonderful package in 2014. Funny story about that one: at the time, my sister ran a clothing store in Olympia, and this woman named Courtney showed up and asked them if it were true that I was her brother. When she said yes, she showed them her Harriet tattoo! Anyway, she later got in touch with me about her idea to do a Crayon reissue and a few years after that it finally happened.
++ Also you released Mecca Normal, a feminist band from Vancouver. There were many indiepop bands which had feminist ideals, but very few were openly feminist. Of course, you could argue that Mecca Normal was an indie rock band but the truth is that they were on an indiepop label. How important was for you having them on board?
As I mentioned earlier, Harriet was more "feminist" than "indie pop" in its early years, so it made perfect sense for me to put out a Mecca Normal single in 1992. Jean Smith had already done the cover art for the Scarlet Drops single the year before (she complained that I only let her do artwork for Canadian bands); I had been friends with Jean and Dave since 1987 or so, and still am 30 years later. Like a lot of bands at the time, Mecca Normal were quite happy to release singles with lots of different labels, even though they mainly worked with K and later Matador and then Kill Rock Stars: besides Harriet, Dionysius and Jettison also put out singles by them in 1992. They called the single I put out "Orange" even though neither of the songs were called that, because I could only afford to pay for a two-color sleeve (also done by Jean) so "Orange" was the third color.
++ There are a few releases by very obscure bands, that only got say one or two releases as a band ever. Wondering if you could tell me what do you remember about them in a line or two? For example My Pretty Finger, Twig, Shy Camp, Orans, Bagpipe Operation, Pinky or Pop Smear?
I see you're managing to ask me about every band after all—very sneaky! Twig, which emerged from the ashes of Fertile Virgin, actually put quite a lot out in the relatively short time they were together: they released two singles with me, a CD on Candy Floss and several compilation tracks, and they only lasted from 1993 to 1996. Orans was Julie and Ramona from Twig, and by 1998 they had a falling out, leaving Julie all by herself in Balloon Chase Team on the "Friendly Society" compilation. So she holds the record for being in four different Harriet bands. My Pretty Finger was this guy Jon Elliston who had been part of the Chapel Hill scene when he was in college; someone gave him $1000 so he could put out a single, and he asked me to do the honors. Bagpipe Operation was this guy Scott Miller (not the Game Theory Scott Miller) who put out one single under that band name before the one he did with me but has done a huge amount of other stuff. As I mentioned above, Pinky was Nancy Andrews, a friend of Linda Smith's, who was also in a band called Lambs Eat Ivy. And Shy Camp was Dave Rapp, who did record quite a lot besides the five songs on Harriet (I have the tape to prove it) but moved on in life before he found anyone to release them (Harriet had ceased to exist by then, or I would have). His main claim to fame is that his father was the main songwriter for the 60s band Pearls Before Swine; Shy Camp contributed a song to a PBS tribute album called "For The Dead in Space." Pop Smear, finally, came and went pretty quickly, but several of their members ended up in other local bands (some on Harriet): Phylene Amuso played bass for the Magnetic Fields on the "House of Tomorrow" EP; Dezaray DeCarlo was the lead singer for Shiva Speedway; and Nancy Asch was in Magic 12 and did some work with Come.
++ One last one about the bands. The Australian bands. You had The Ampersands and The Cannanes. Did you ever meet them? Went to Australia perhaps?
I met Andrew Withycombe, the bass player for The Ampersands (and also The Cat's Miaow), before the single came out. We went to a show at the Paradise Theatre in Boston featuring The Dambuilders, who I had slandered in the most recent issue of Incite! as sounding like Joe Jackson in the recording studio, whereas they were one of my favorite local live bands. Their singer came close to assaulting me that night between sets, which was a bit awkward. I'd known the Cannanes for a long time before they put out the last Harriet 7-inch in spring 1998. I had bought their first cassette on K and their first single back in 1985 or so and I had been a fan ever since (and still am). I got to know Frances and Stephen even better a year after I stopped the label, my first year in New York, when Frances was a visiting law professor there. We saw Joan Jett together in New Jersey: how cool is that?
++ Who took care of the artwork for the releases? You or the bands?
The bands, almost always, sometimes for each other. Linda Smith did the cover for her single with me and also for "100,000 Fireflies'; ditto with Jean Smith (see above). Wimp Factor XIV's design sensibility was the most labor-intensive: the first several hundred sleeves for "Train Song" featured pennies that had been flattened on Pittsburgh train tracks, which I had to affix to tar-splattered sleeves; to my great relief, they went with glue and acrylic paint for the second pressing. Fertile Virgin and The Receptionists both went with childhood photos, and Sean from Crayon/Tullycraft generally went with copyright infringement. I never even asked where my bands found many of their images—wish I knew now! By the late-90s I found this amazing graphic designer, Eleanor Ramsey, who was a friend of Twig's, who worked on the last four CDs I put out. She did wonders with the two images I found for "Friendly Society," the CD compilation that was my final release: priests on skateboards from Life Magazine and a picture of the Mt. Holyoke women's basketball team from 1902 that I found in the Boston Globe.
++ And what about the label "logo", that cartoon with the girl with glasses that is definitely the Harriet trademark. Where did that come from? There was a different version at the start of the label too, right?
The picture is from Harriet the Spy (see above). At first I just copied a picture from the book for my first six singles, then asked Debbie Nadolney from High Risk Group to do a version of it for everything that came after.
++ Was there much communication with the labels from across the pond in the UK? Or even with the US labels at the time? I know it was pre-internet times, but I wonder if you got much distribution in the UK or maybe you traded records with people interested there? How did that work for you?
It was a very small world in 1989 (and smaller still after email became available in 1994 or so!). As I mentioned above, I met the people responsible for Sarah and Subway Org. in 1988, a year before I started the label. I came home from that trip laden with Sarah test pressings and loads of records he folks at 53rd and 3rd in Edinburgh gave me, just because I did a fanzine they liked. Those were the days. Even before that I had easy access to tons of UK music in Boston, thanks in no small part to the ace record store Newbury Comics. In an odd way, I knew the UK labels better than the bands: few of them had enough money to play in the US, and I wasn't over there enough to see many of them. A good example is the summer of 1996 when I was doing research in London and spent a week on the couch of the person who ran Che Trading, one of my favorite labels at the time. It turned out that was the week Urusei Yatsura was in town recording their CD for Che, so we all basically slept on their couch at the same time. Even though I was only 32 at the time it made me feel very old. I did eventually see them play a show in Boston; and I also ran into them in Heathrow airport totally by chance one time when I was returning to the US and they were flying to Sweden. I also had fairly close contacts with people in Germany and Japan who sold some of my records. In summer 1998, after I had stopped the label, this guy from Japan interviewed me for a Japanese TV show, so apparently a few people had heard of me over there.
The fanzine network in the 1990s made it very easy to stay I touch with other US record labels, since most of the ones I liked sent me their stuff to be reviewed in Incite!. Also, some of the best indie labels also distributed other labels, including Harriet: Ajax, Bus Stop, and K all bought anywhere between 15 and 50 of my records each time. So we all knew, and supported, each other more or less. And in Boston, two other indie labels started up shortly after Harriet: Pop Narcotic, run by Bill Peregoy, and Sonic Bubblegum, run by Mike Hibarger; we would always say hello to each other at shows. A couple of years ago the three of us got together in Boston to do an interview with this other guy who used to put on shows in Vermont; it was supposed to come out as a podcast but hasn't yet.
++ Which was the record on Harriet that sold out the fastest?
I can't really recall – the first Magnetic Fields single did sell out pretty fast; and I lost the proofs for the sleeve so I used a color Xerox of Linda Smith's original water color for the next pressing, then a larger-sized version for the next one after that. So without intending to I created all these collectors' items.
++ Were there any bands that you would have liked to release and were very close but never happened?
I really wanted to put out a Tizzy CD but they had interest from a label with better distribution; this was around 1997. That never happened; my friend Trey Woodard who ran the Paper Cut label in Florida ended up putting it out after I had shut down Harriet. I also really liked Bulkhead, a Boston band in the mid-1990s, and we talked a bit but nothing every came of it. I'm sure there were others, but those are the two I can think of.
++ Did the label get much attention from the press and radio? Was it more in the US or internationally would you say?
John Peel was a fan right at first: when I was in England in the summer of 1990 I sent him my first three singles and he played Fertile Virgin and especially High Risk Group, who he invited to do a Peel Session but we didn't have enough money to send them over there. Someone sent me a tape of his show where he talked about the label at some length and revealed that his mother's name was Harriet. The same summer I ran into Everett True in a subway after a Galaxie 500 show and gave him the same three singles; he reviewed one or two of them in the NME. It was downhill from there as far as UK press and radio was concerned! Harriet had sporadic moments in the limelight in the US; one radio station in LA did a show called "Harriet Not Helmet" (Helmet was a really bad indie rock band), semi-major music zines like CMJ, Puncture, Magnet, and Option reviewed my records a few times each, and so forth. But the main "buzz" was from the fanzines that were done on the same scale as I did Incite!, mainly run by high-school girls and nerdy guys in their 20s. Harriet had loads of love from that quarter. Finally, I made enough waves in Boston to achieve notice from the local newspapers and radio stations once in a awhile. The Boston Globe did a piece on me and Mike Hibarger, the Phoenix and Boston Rock both did profiles on me, and on Harriet's 5th Anniversary I did an interview on WBCN, the main AOR station in Boston, which was weirdly thrilling.
++ You also did the Incite! fanzine while having the label. I must say I'm not very familiar with it, but wondering how many you did? How long did it last? How many copies did you print for each? And what sort of topics did you cover on them?
Incite! lasted from 1985 until 1998. There ended up being 30 issues in all; in 2011 I scanned and posted the complete run here. At first I did it 3-4 times a year, then once a year after 1992 or so. Initially it was a more typical fanzine, with band interviews (including Beat Happening, Mecca Normal, The Nils, and really obscure punk bands like Sons of Ishmael and the Prevaricators), live reviews, and record reviews. By the late 1980s I was running some poetry, short stories, and snack reviews by friends of mine. By the early 1990s it was all my own writing, and increasingly just record reviews and Harriet news, with occasional bursts of esoteric whimsy. I especially liked finding clip art from the depths of Harvard's library: my favorite source was the Geography section, which included great 19th-century travel books with crazy wood-cuts. I did one issue where all the illustrations were pen-and-ink drawings of manatees and dugongs, and another special library issue (where I interviewed several indie-pop library employees) featured illustrations from library trade journals.
++ On your last release, "Friendly Society", you mention that people should keep an eye open for future fanzines, CD compilations and so on from you. Did any of these happen?
Nope. I got halfway through Incite! #31 but that didn't survive my move to New York. I had planned this huge article on Sarah inserts (I just checked on my computer and it looks like I actually wrote several pages, which I had completely forgot). The only fanzine-ish thing I did since then, besides the short-lived blog I referred to earlier, was a one-off magazine called "The Pedestrian," which you kind of have to see to understand (and even then you might not): http://www.lehman.edu/academics/arts-humanities/alborn/pedestrian.php.
++ What else did you do after closing shop with Harriet Records? Had you sold all your stock at that time? Or what did you do with it?
I kept some of everything that was still in print (most of the CDs and 30 or so of the singles), and although I've sold dribs and drabs to people over the years a lot of it still sits in my closet and is still for sale! Email me at timothy.alborn@lehman.cuny.edu and I'll let you know what's still available. I occupied a fair amount of my spare time between 2004-2007 writing limericks for something called the Omnificent English Dictionary in Limerick Form, which is still plugging away without my help in its goal of providing a definition of every word in the English language in perfect anapest. Otherwise all my writing has been of the academic variety: dozens of articles and three books, all on British history between 1750 and 1914. The most recent will be published by Oxford University Press next year, on gold as money and bling in Britain before 1850.
++ On that same last CD, you mention that indiepop is sort of a Friendly Society. I think that is very important and very true to this day. Why do you think it is important to continue being so? And how come it has been alive, with up and downs of course, for 30 years now?
The context for that was that I was doing a lot of research at the time on friendly societies, which were these clubs in the nineteenth century in both Britain and the US where members (mostly men) chipped in money to help each other when they got sick or injured at work (this was before employers or the government provided health insurance); but besides this, people joined these clubs to share time with friends, hence the name. I just sent a copy of "Friendly Society" last week to a friend of mine who teaches history at Boston College who is about to publish a book on friendly societies (I need to write a "blurb" for it by next month). After receiving it she wrote back: "Your description of modern day friendly societies fits right in with the epilogue I eventually wrote. They haven't gone away, they just solve different problems. I hope yours reconvenes in some future iteration." So yes, it's really all about sustaining a sense of community, and blogs like yours, and labels like Tender Loving Empire in Portland or Where It's At Is Where You Are in London, and all the people who keep making music for its own sake and to connect with like-minded people—that's never going to go out of style. It hasn't since at least the garage bands in the 1960s, and there have always been people around who insist on keeping the fire going from one generation to the next. People like this guy Reid in Boston who ran a record store called In Your Ear when I was in college and was a walking encyclopedia of 60s garage punk; or Fred Cole, who was in a band called the Weeds in Las Vegas in 1965 and then kept it going in the band Dead Moon right up until he died earlier this year.
++ And aside from music, what other hobbies do you have these days?
I more or less covered that above. I also like going to movies with my wife, watching sports on TV, appreciating our cat Hermione, and going on walks. But (most of all) I have never stopped learning about music that's new to me (which might have been recorded in 1955 or 1975 or 2015), at least an hour or more each day, via discogs, Youtube, Bandcamp, etc etc… I can and most likely will keep doing this for the rest of my life without ceasing to be simply thrilled honey as Edwyn Collins would say.
++ Looking back in retrospective, what was the biggest highlight for Harriet Records? And are there any regrets for Harriet Records?
Not a single highlight, but all the people I got to know and all the music I got to listen to before almost anyone else had, and the constant sense that I was helping people create things, made that decade in my life incomparably special. Really no regrets at all: I ended it right when it needed to be ended—I didn't have enough time any longer to keep selling my growing back catalogue and do what needed to be done with the new stuff, and by the way work full-time as a college professor. I do wish I had managed to stay in touch with more people from the bands. I still do now and then with several but I've totally lost touch with most of them.
++ One last question, and it is a hard one, I would know running a label, did you sell all of your releases?
A lot of people got to hear the bands on my label who otherwise wouldn't have. Not as many who might have if I had been running it full-time or with a different mindset, but that was always a line I didn't want to cross, and I'm pretty sure all the bands I worked with understood that. I pressed 1000 copies of all my singles and sold more than half of all of them, and went into second pressings for six or seven; and I sold, on average, 1000 copies or so of the 10 CDs on the label. I never broke even, but I was able to write off around a third of my losses on my taxes. So Harriet never caused me any financial hardship—and caused me an incredible amount of unexpurgated joy.
++Thanks again! Anything else you'd like to add?
Nope – got to get back to work!!!
::::::::::::::::::::::::::::::::::::::::::::::::::::::::::::::::::::::::::::::::::::::::::::::