Dua Lipa levitates Lolla, Glass Animals give off "Heat Waves" and the arrival of Wet Leg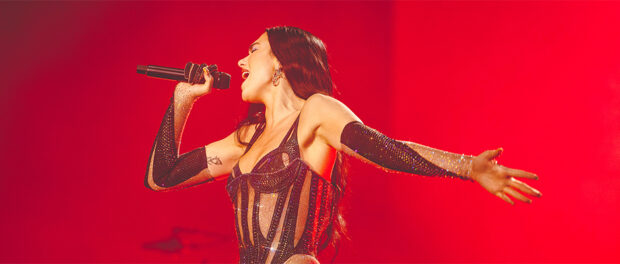 Reigning pop queen Dua Lipa is no stranger to Lollapalooza, or selling out the United Center for that matter, but after rising to Friday's closing slot at the super-sized festival, there was no doubt her superstardom was cemented.
Though the singer/songwriter/dancer extraordinaire dropped "Future Nostalgia" during the peak of the pandemic, the insanely contagious club beats were just what the doctor ordered to cure the COVID blues.
Now that she's finally able to bring those hook-saturated bangers to the stage, the communal spirit for which they were always intended was fully realized, which paired with their explosion in popularity, made for a crowd that stretched for as far as the eye could see.
From anyone who waited down front for the ideal dance party to those in the tree branches, it was an endless array of throwdowns, including the gargantuan "Physical," "New Rules," "Love Again," "One Kiss," "Electricity," "Levitating" and "Don't Start Now."
All the while, Dua Lipa was delightful as an entertainer and an empowerer of the tallest order, regularly strutting down the runway in her Cher-inspired jumpsuit, shuffling up the choreography and supplementing the screens with optimistic imagery that helped paint a wider picture of who surely Lolla's largest success story as of late.
Right beforehand and representing an entirely different lane of indie/alternative pop was Marie Ulven Ringheim, the Taylor Swift-approved bedroom troubadour, better known as Girl In Red, who brought emotive material from her full-length debut, "If I Could Make It Go Quiet."
As far as summertime anthems go, this year's award indisputably goes to Glass Animals, thanks to the never ending chart-topper "Heat Waves," which naturally had everyone screaming along louder than practically anything.
But make no mistake, these English rockers have a firm foundation that dates back nearly a decade and delivered a consistently interesting combination of electronic, psychedelic and retro backdrops throughout a thoroughly engaging hour.
Electro/power pop band and queer champions MUNA provided such extraordinary ear-candy that even the average passerby couldn't help but be compelled to jump along to "Anything But Me," "I Know A Place" and "Silk Chiffon."
Fellow Englishmen Royal Blood went in a much darker and heavier direction while diving into a taste of "Typhoons," plus a sizeable streak of alternative chart-toppers.
R&B veteran Tinashe brought soulful tunes from "333," plus plenty from the past, ingeniously intertwining elements of pop, hip-hop and dance that have made her impossible to pinpoint, but lovely to listen to.
Those that made the pilgrimage early got a chance to encounter British indie rock/post-punk duo Wet Leg, who were already blowing up long before getting booked.
Based on the size of the afternoon audience, and most importantly, its reaction, chances are Lollapalooza will be seeing a lot more of these ladies as it continues to mint the major leaguers of tomorrow.
---
Lollapalooza continues at Grant Park through Sunday, July 31. For additional details, visit Lollapalooza.com.